Last year, we reported that Ford was planning a pickup version of the new Bronco a bit later in its lifecycle. It makes a ton of sense, especially given the popularity the Jeep Gladiator has enjoyed since its debut. What's more, making a Ford Bronco truck should be pretty easy to do, given the fact that the Bronco is loosely based on the same Ford T6 platform that also underpins the Ford Ranger, to boot. And with any luck, it'll look just like this rendering from artist Mo Aoun.
Aoun only created one rendering of a Bronco truck, but it's a darn good one. The design of the four-door cab mimics that of the regular Bronco, with a very upright rear window that transitions into the equally boxy bed. The concept fits the Bronco's lines perfectly, and it looks very much production ready, but it's most certainly not stock, and neither are the two-door and four-door Bronco renderings Aoun shared along with it.
The Bronco truck and four-door variant feature a host of rugged aftermarket goodies including beadlock wheels and BFGoodrich Mud-Terrain T/A tires, cool-looking yet minimalist brush guards up front, and aftermarket bumpers with integrated winches. The four-door also wears a row of extra LED lighting up top. Either way, they both look awesome, as does the somewhat stock-looking two-door Bronco rendering.
Interestingly enough, the Bronco truck also retains its large spare out back with a third brake light extending upward. You see this sort of approach on the Jeep Wrangler, but not on the Gladiator. It'll be interesting to see if Ford decides to retain the spare on the Bronco pickup or nix it altogether.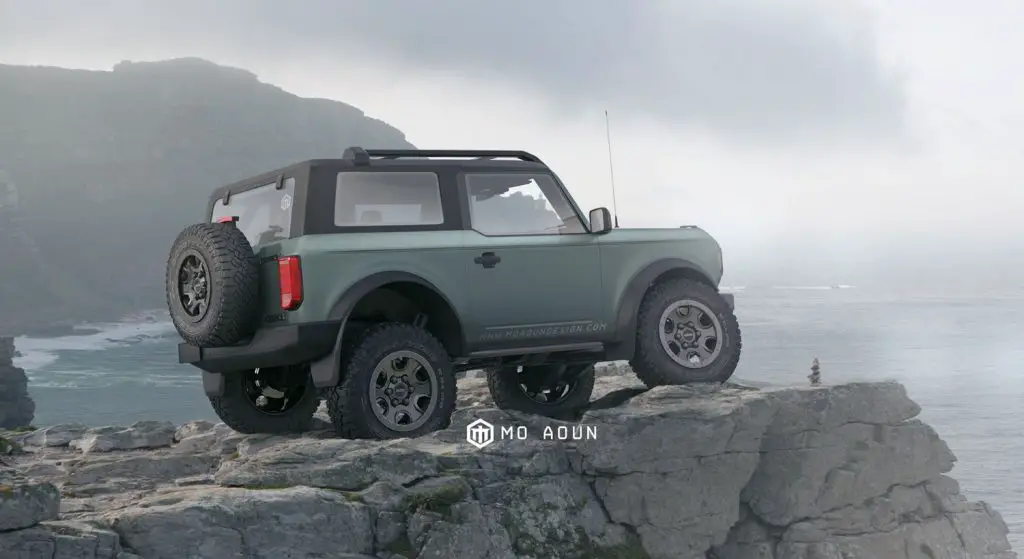 The regular two-door and four-door Bronco models are currently slated to debut in July and begin production in early 2021. They'll be powered by Ford's twin-turbo 2.7L EcoBoost V6 engine, which Ford Authority exclusively reported earlier this year. The Bronco truck variant is expected to follow around 18-24 months later. A higher-capability model, potentially called Bronco Raptor, will likely follow in 2022 and be powered by Ford's 3.0L EcoBoost V6.
Mated to the boosted sixes will be a brand new seven-speed manual transmission with a crawler gear. An automatic transmission will also be available. And, as we saw in a recent video showing Bronco prototypes going through some mud, the Bronco is also equipped with the technology needed to pull off a cool move off-roaders call "the dig."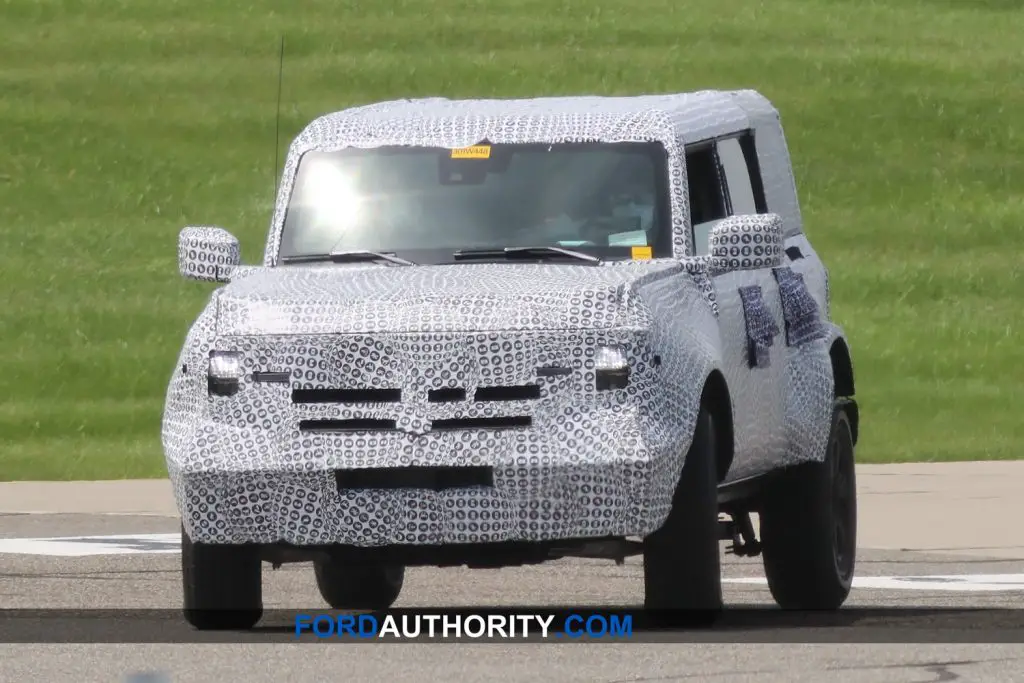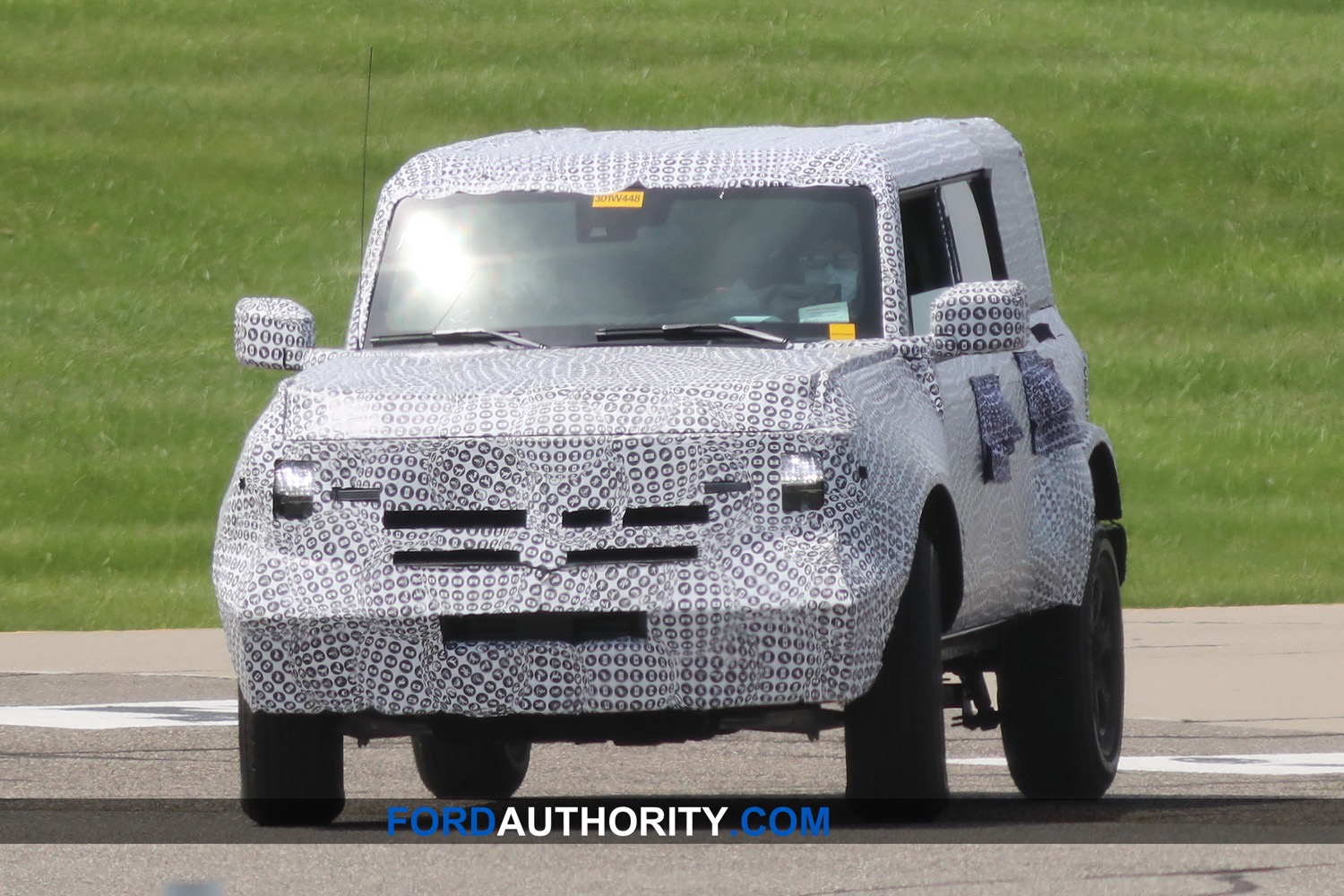 Several roof options will be offered, as will at least two tire packages – one for mixed on-road and light off-road duty, and another for more serious off-roading. Additionally, there will be three grille options to choose from, as Ford Authority exclusively reported.
We'll have more on the 2021 Ford Bronco very soon, so be sure to subscribe to Ford Authority for more Ford Bronco news and non-stop Ford news coverage.
2021 Ford Bronco Photos
Click to expand
Click to contract

Credit: Source link