Class 8 used truck sales were flat from July to August, according to ACT Research's latest preliminary release of the State of the Industry: U.S. Classes 3-8 Used Trucks published by.
Compared with August 2019, volumes rose 46 percent and were up 21 percent when measured against the first eight months of last year.
Learn how to move your used trucks faster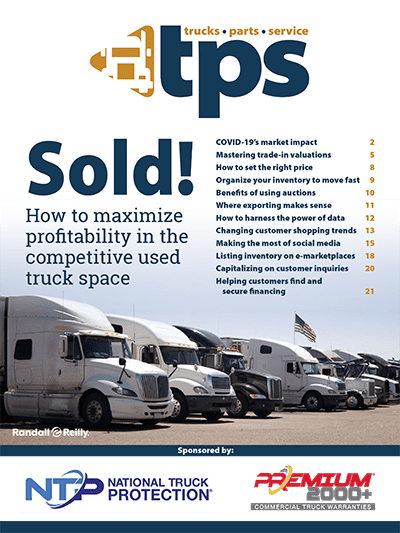 With unsold used inventory depreciating at a rate of more than 2% monthly, efficient inventory turnover is a must for dealers. Download this eBook, "Sold! Best Practices for Moving Used Trucks," to access proven strategies for selling used trucks faster.
Other data in ACT's preliminary report included month-over-month comparisons for August 2020, which showed average prices increased 7 percent, while average miles and average age decreased 2 percent and 3 percent, respectively, compared with July.
Year-to-date, average price, miles and age were all lower, down 16 percent, 3 percent and 8 percent, respectively, compared with the first eight months of 2019.
"In aggregate, the used truck market continued to make gains compared to what happened last month. While the near-term progress is encouraging, the tougher standard is how the current market stacks up against last year," says ACT Vice President Steve Tam.
"As we have been expecting for some time, today's trucks are not bringing the same money they were a year ago and, given everything that has happened in our economy in the past year, that comes as no surprise," Tams says. "The good news is that even if prices remain where they are now, they will continue to make improvements relative to last year, becoming less negative as comparisons become easier."
ACT's Classes 3-8 Used Truck Report provides data on the average selling price, miles and age based on a sample of industry data. In addition, the report provides the average selling price for top-selling Class 8 models for each of the major truck OEMs.
Don't Miss A Story! Get the TPS Daily newsletter.
Credit: Source link