The Chevrolet New Roads Magazine has a running series called 'Legends of Chevy Trucks' that aims to retell some of the more interesting stories from the automaker's rich pickup truck past. For the latest installment in the Legends of Chevy Trucks series, the New Roads Magazine editors turned their attention toward the iconic 1955 Task Force line of fleet trucks.
Chevrolet says that in 1955, pickup trucks "were still very much work vehicles, and not the do-everything-well family utility machines they have evolved into today." This is where the Task Force lineup stood out, though. Thanks to a variety of standard and available creature comforts, the Task Force trucks promised to be comfortable for drivers throughout a long, tiring workday. These included the standard "Nu-Flex" bench seat, which was said to provide a more comfortable ride thanks to improved springs and multiple "air relief valves." Customers who desired more comfort yet could opt for the optional "Airmatic" bench, as well, which allowed the driver or passenger to adjust their seat firmness with manual air pumps.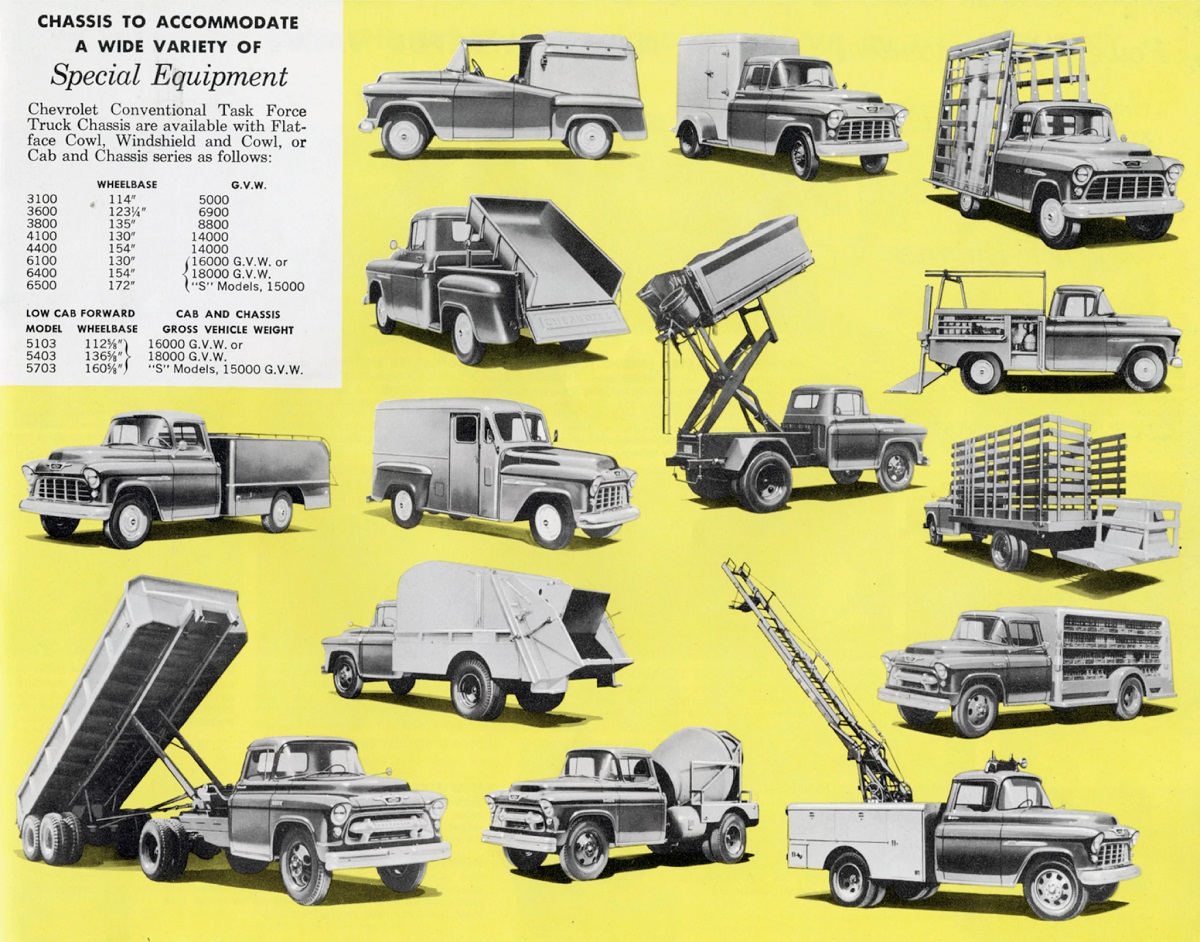 Other notable features of the Task Force trucks were the concealed safety steps, which were hidden by the doors and allowed for easy cab entrance/exit, and the exterior window moldings (dubbed "Glass Guard" at the time) which "showed the way forward in terms of protection and durability, as they were less prone to breakage," Chevrolet says. All Task Force trucks were offered with a number of different powertrains in 1955, but the range-topping Taskmaster V8 was by far the most desirable option that year. This 265 cubic-inch V8 was good for 145 horsepower and 238 pound-feet of torque and was perfect for trucks that would be turned into load-hauling flatbeds, cement trucks, tow trucks and other heavier applications.
Speaking of the different Task Force body styles, the truck could be ordered as a can and chassis, with customers then ordering a commercial body (ex. cherry picker, garbage truck etc.) from an upfitter. There were also Forward Chassis Control (cabover) van bodies and three different school bus bodies ranging in size from 30-54 student capacity.
General Motors says the Chevrolet Task Force trucks "represented an important step forward for the category, with design and amenities offering unprecedented refinement for the day." These trucks helped pave the way for today's pickups like the Chevrolet Silverado and GMC Sierra – currently two of GM's most important and most profitable vehicles.
Subscribe to GM Authority for more GM vintage and restoration news, Chevrolet news and around-the-clock GM news coverage.
Credit: Source link