This article first appeared on Trend Investing on August 11, 2020; therefore all data is as of this date.
dynaCERT [TSX:DYA] [FR:DMJ] (OTCQX:DYFSF) – Price = CAD 0.72 USD 0.54
Source: Yahoo Finance
dynaCERT is a Canadian company that manufactures, distributes, and installs its Carbon Emission Reduction Technology (CERT) for use with diesel engines globally. Their flagship product is HydraGEN™, an electrolysis unit that produces H2 and O2 gases to optimize the diesel fuel burn, resulting in a 6-19% increase in fuel economy and a 50%+ reduction in emissions.
Emissions reductions summary from major economies
Europe – From Jan. 1, 2020 the European Union emission targets are that CO2 must be cut to 95 gram per km for 95% of cars from the current 120.5 gram average. In Europe, fines could reach 34 billion euros (~US$37.5 billion) if car manufacturers don't rapidly reduce emissions.
China – Tougher emission standards (China VI) began in 2020. In Beijing, all new buses and other heavy-duty diesel vehicles must follow the new emission rules, as well as all new vehicles. All existing vehicles on the roads are obliged to meet the previous "China V" emission standards.
USA – If Biden wins. Biden recently announced a massive $2 trillion green infrastructure and jobs plan over his first term in office. Biden supports the idea of a Green New Deal. The plan would also encourage American production of electric cars and batteries and boost fuel economy standards.
About dynaCERT and their flagship product HydraGEN
HydraGEN is an aftermarket 'electrolysis' unit that produces hydrogen and oxygen on demand and is designed for on-road applications with class 6-8 engines. It provides performance enhancements by injecting hydrogen and oxygen into the air intake manifold resulting in improved fuel efficiency and dramatically reduced carbon and other noxious emissions (see chart below).
It serves on-road vehicles (especially trucks), reefer trailers, mining and forestry equipment, marine vessels, and railroad locomotives, as well as off-road construction and power generation sectors.
How HydraGEN works and its market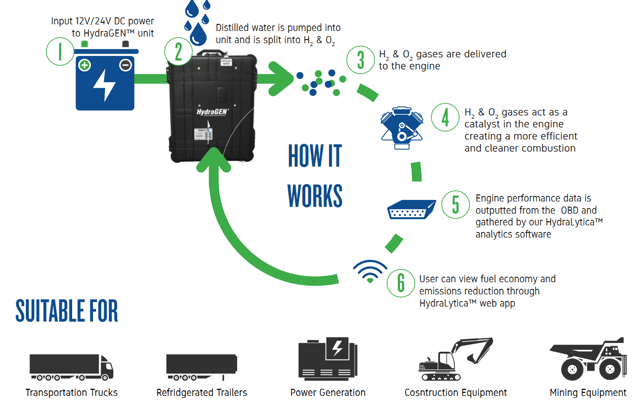 Reduction of various emissions by percentage and an 8.9% diesel fuel savings due to increased efficiency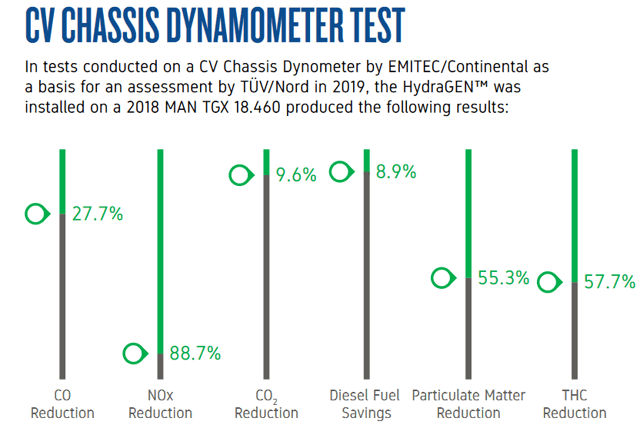 Source: Company fact sheet
The HydraGEN products and industries served
As shown below the market for diesel emissions reduction is very large. In the US, three out of four trucks on the road are powered by diesel and 98% of the large over-the-road Class 8 trucks are diesel. Europe has 145 million trucks, North America has 36 million trucks registered for business, and South America and India have 210 million trucks.
It should be noted that many modern diesel trucks are already fitted with advancements in engine and after-treatment technologies (catalytic converters etc.) to reduce emissions.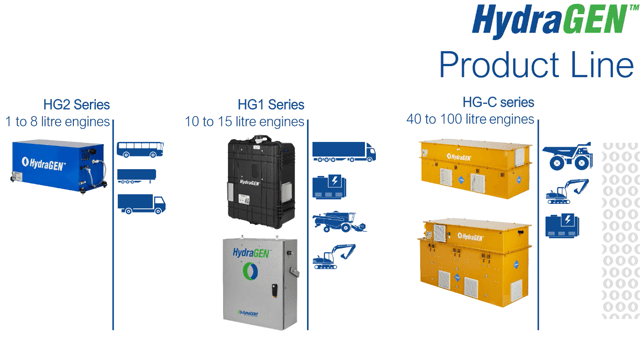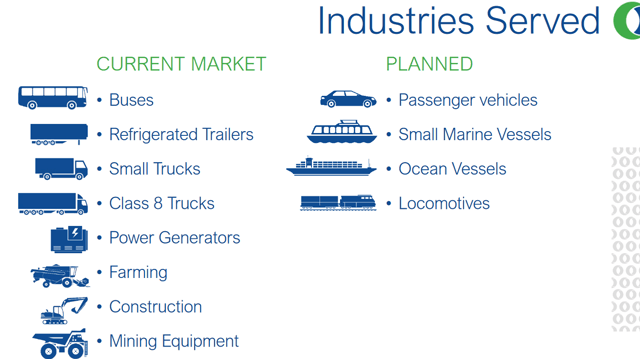 Source: Company presentation
dynaCERT's global partners/dealers
MOSOLF is one of the largest truck servicing companies in Europe with installations & 23 showrooms throughout Europe. They have distribution channels in Germany, France, Netherlands, Belgium, Luxembourg, Poland, Czech Republic.
Farhi Holdings – A distributor for Brazil & Israel.
H2 Tek – Has a focus on mining with mining projects in: Canada, USA, Peru, Chile, Brazil, Paraguay, Uruguay, Argentina, Russia, Mongolia, and Australia.
KarbonKleen was awarded the exclusive dealership rights in the trucking industry in the USA until December 31, 2024 (subject to certain quotas of a minimum of 150,000 HydraGEN Technology units over a little more than 3 years). On May 9, 2020, it was announced that KarbonKleen achieved a purchase order for 3,000 HydraGEN™ Technology units. KarbonKleen also has financing for a Mexico assembly with an MOU for 1,000,000 units.
Some of the largest fleets in North America have been piloting HydraGEN Technology.
dynaCERT has ~40 dealers around the world selling their products to small and large truck owners, fleets, and government organisations that use diesel engines.
Source
A $8,850 HydraGEN unit saving $0.072/km has a payback of 123,000km is typically 9 months typical truck driving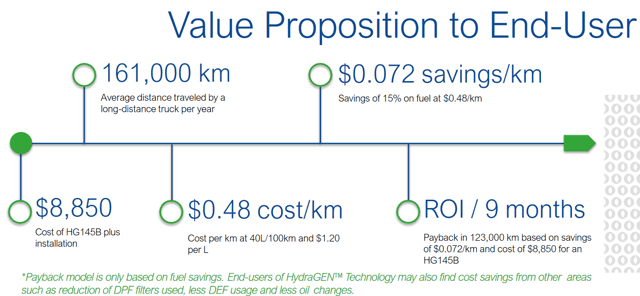 Source
dynaCERT recently upgraded their HydraGEN™ assembly plant
On July 30, 2020 dynaCERT announced that their assembly line has recently been significantly improved. dynaCERT stated:
The Assembly Line has been retrofitted with a new semi-automated assembly system, complete with automated and customized conveyor belt equipment advancing work-in-progress progressively to individually designated workstations which provide improved high standards in state-of-the-art technical specifications. The Assembly Line can maintain a capacity of 100 units per day or 2000 units per month, assuming one single 8-hour shift per day. Capacity is expected to be capable of tripled production of 6000 Units per month using three shifts per day. Of most significance, dynaCERT awarded the commissioning of this new dual-sided Assembly Line to Wecon Systems Ltd. of Mississauga (Canada), the very highly regarded specialists for this type of forward-looking project. The newly designed Assembly Plant, while improving quality control, can greatly reduce costs of goods sold and production delivery times and features the support of a proprietary Enterprise Resource Planning (ERP) logistics software. dynaCERT customers can now expect almost immediate delivery of their backlog of purchase orders of HydraGEN™ Units, at their own desired rate of delivery.
Valuation
dynaCERT has a current market cap of CAD 264m, with 358m shares issued and outstanding (41m warrants and 29m stock options). The Company stated after the recent equity raise that they have "$18,000,000 in cash and virtually no significant debt."
Currently there are no profits, but revenues are 'forecast' to grow rapidly from C$1m in 2019 to C$32m in 2020, to C$200m in 2021, and C$350m in 2022. That's a forecast 11x revenue in just the 2 years from 2020 to 2022. Wow! If achieved, by about 2022 the Company should start to become profitable.
4-traders shows one analyst rating with dynaCERT as a "buy", with a price target of C$2.20 representing 206% upside.
dynaCERT's financials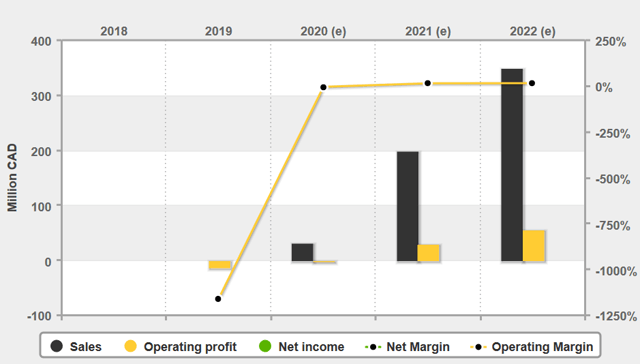 Source: 4-traders
Company management and Top shareholders
Of interest is that mining legend Eric Sprott is the largest shareholder with 8.66% share. Insider ownership is ~8.4%, with minimal institutional ownership at this stage. Overall, it looks a favorable mix and after the recent TSX upgrade, we may start to see some more institutions get onboard.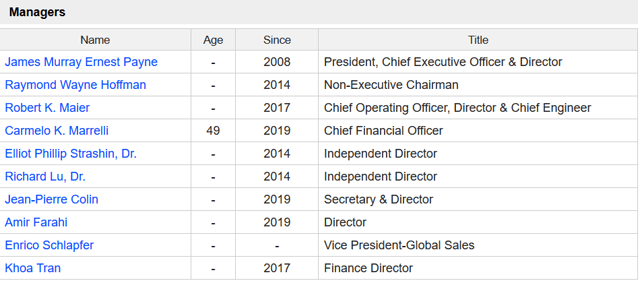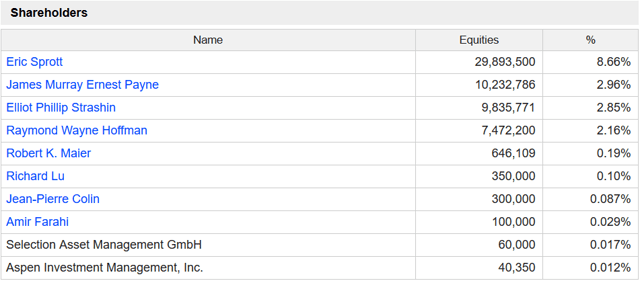 Source: 4-traders
dynaCERT recent news
August 10, 2020 – dynaCERT is Presenting at Wall Street Reporter's "Next Super Stock" Livestream Conference on August 12, 2020
July 30, 2010 – dynaCERT Survives COVID-19 and Re-Emerges Very Financially Healthy
July 18, 2020 – dynaCERT Closes Upsized $8,367,400 Overnight Marketed Equity Financing
July 9, 2020 – dynaCERT Graduates in the USA to the OTCQX
July 2, 2020 – dynaCERT Graduates to the Toronto Stock Exchange
May 11, 2020 – dynaCERT Invests in the USA and Receives a Purchase Order for 3,000 HydraGEN™ Units
Feb. 20, 2020 – dynaCERT Number 1 Ranked Company Across All Sectors on 2020 TSX Venture 50
Dec. 16, 2019 – dynaCERT Announces Strategic Investment by Mosolf in Europe
Nov. 28, 2020 – dynaCERT Welcomes Eric Sprott as a Significant New Shareholder
Nov. 14, 2020 – dynaCERT Delivers 150 HydraGEN™ Technology Units to KarbonKleen Destined for Mexico
Nov. 13, 2020 – dynaCERT Commences Shipping HydraGEN™ HG-1 and HG-2 Units to MOSOLF Group of Europe
Risks
Product success or failure. Uptake of dynaCERT's HydraGEN flagship product is key to their success. This depends on the success of their dealership network and on companies wanting to spend to reduce emissions and improve fuel efficiency. Many modern diesel trucks are already fitted with advancements in engine and after-treatment technologies (catalytic converters etc.) to reduce emissions.
The large analyst forecast revenue increases quoted in the article may not materialize. This is perhaps the greatest risk.
Technology change. Massive electric vehicle uptake will eventually mean less diesel engines, but this will be gradual and should mostly not impact existing vehicles. Some countries and cities are already banning diesel vehicles. The flip side is that there are still over 1 billion diesel engines in use globally.
Government legislation. The trend is towards reducing emissions especially in China and Europe; however this could change.
Business risks – Competition, debt, funding, management, currency, and litigation risks. Currently dynaCERT has C$18m in cash so is well funded.
Sovereign risk is low being based in Canada.
Stock market risks – Dilution, lack of liquidity (best to buy on local exchange), market sentiment.
Further reading
Investors can view the Company presentation here.
A dynaCERT HydroGEN unit (black box) retrofitted to a semi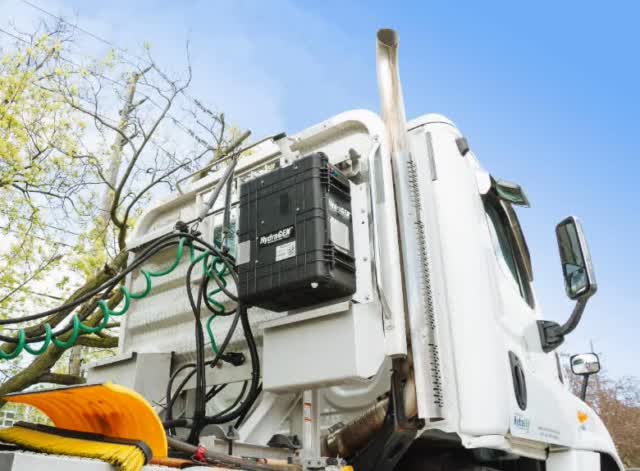 Source: Company investor presentation
dynaCERT quote that there are 1 billion diesel engines in use today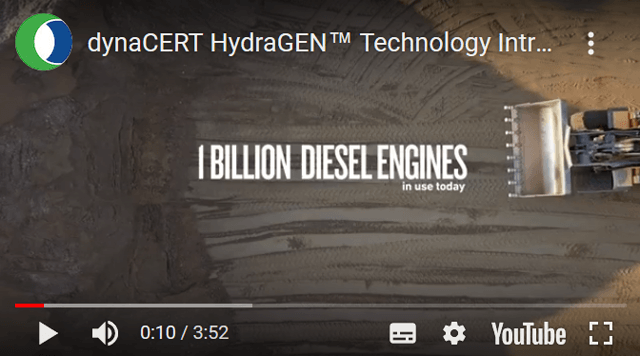 Source: dynaCERT company video
Conclusion
Given there are still around 1 billion diesel engines globally that means there are arguably 1 billion reasons for investors to consider dynaCERT. Government legislation continues to penalize companies that don't meet increasingly tough emission standards, notably in China and Europe, but soon perhaps in the USA. This means the market for emissions reduction technology will increase each year.
dynaCERT is very well placed to serve the diesel emissions reduction market as they have a well proven, patented, and established technology, a global network of dealers, and a rapidly expanding assembly plant to meet demand (full capacity is now a potential 6,000 units/month), with increasing revenues. In fact revenues are 'forecast' to accelerate dramatically (a forecast 11x revenue increase in just 2 years to 2022).
Risks mostly revolve around forecasts and global distributors and their sales success due to the early stage of commercialization. Also it should be noted that most new diesel vehicles now come with emission reduction technology built in.
One analyst price target is C$2.20, which is well above the current stock price of C$0.72. Legendary mining investor Eric Sprott is onboard as the largest shareholder. Overall, I rate dynaCERT as a strong speculative buy for long-term investors.
As usual all comments are welcome.
Trend Investing
Thanks for reading the article. If you want to sign up for Trend Investing for my best investing ideas, latest trends, exclusive CEO interviews, chat room access to me, and to other sophisticated investors. You can benefit from the work I've done, especially in the electric vehicle and EV metals sector. You can learn more by reading "The Trend Investing Difference", "Subscriber Feedback On Trend Investing", or sign up here.
Latest Trend Investing articles:
Disclosure: I am/we are long DYNACERT [TSX:DYA]. I wrote this article myself, and it expresses my own opinions. I am not receiving compensation for it (other than from Seeking Alpha). I have no business relationship with any company whose stock is mentioned in this article.
Additional disclosure: The information in this article is general in nature and should not be relied upon as personal financial advice.

Credit: Source link