MANKATO — The pandemic put Alberto Lara's aspiration to open his own restaurant on hold. It also put Pierre Sadaka's restaurant into financial hardship.
So the employee and owner of Charley's Restaurant and Lounge teamed up to open a taco food truck that has quickly attracted a following. They ran out of food in less than an hour on their opening day and the line stretched up to 40 people long on Cinco de Mayo,
"It took off a lot quicker than we expected," said Sadaka, who took over his father's namesake restaurant off Madison Avenue.
Lara is a California native and came to Mankato to work at El Mazatlan Mexican Restaurant, which is owned by extended family members.
More recently Lara has worked at Charley's while making plans to open his own Mexican restaurant in Mankato. He has found a prospective location, but all his plans were postponed when the governor ordered all restaurants to close their doors to sit-down diners on March 17.
Sadaka, meanwhile, was struggling to keep afloat financially. His restaurant's menu is not conducive to takeout, he said.
Late last month Lara and Sadaka came up with the idea of a food truck in the Charley's parking lot offering more portable fare made from Lara family recipes.
Within a matter of days they found a truck to rent, developed a menu and began purchasing ingredients.
They planned to quietly open April 30. Lara said he expected to serve a handful of tacos while he prepped for their venture to gradually gain a customer base.
They sold out of all the food they had ready in 35 minutes.
"We were like in shock," Lara said. "We thought: 'Whoa, what did we just get into?'"
The next day they had more prepared, but still sold out in an hour. Now they've built up a capacity to serve a daily lunch crowd and are opening up for dinner until supplies are gone.
The menu offers four Lara family specialties: tacos, mulitas, quesadillas and — most popular — "keto tacos," with fried cheese shells instead of tortillas.
They use slow-roasted beef marinated in a flavorful sauce that includes hints of chocolate and cinnamon, Lara said. The sauce is served as a side for dipping.
"It's really, really flavorful," Lara said.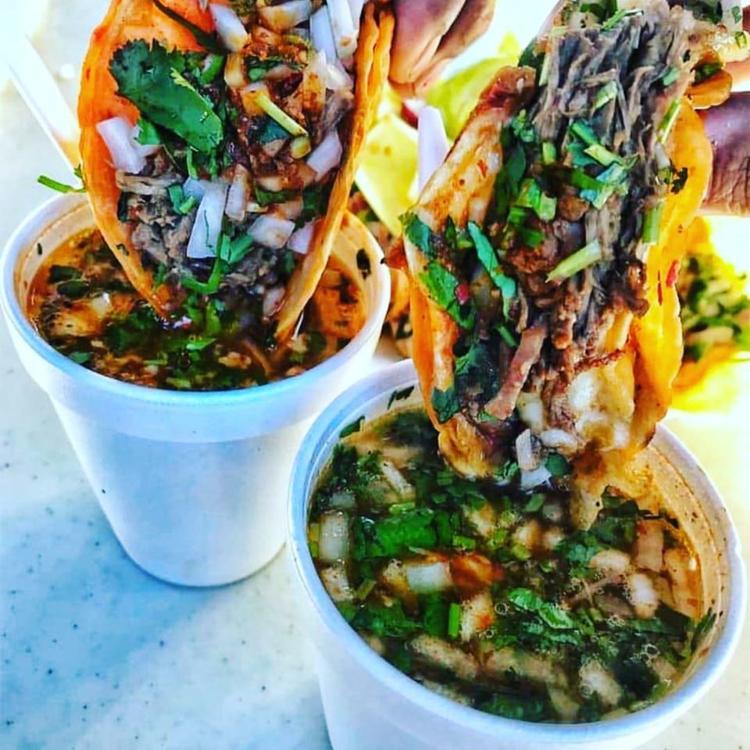 The new food truck will hit the road once restaurants are allowed to fully re-open and the Charley's parking lot will once again be needed for dine-in customers.
The pair will then be accepting invitations to set up outside other area businesses and available for booking for graduation parties and other private events, Sadaka said.
Lara also isn't giving up on his original dream. He now hopes to operate both a food truck and a restaurant someday soon. 
Charley's parking lot isn't the only option for finding food on wheels these days. The Hub Food Park in Old Town opened for the season last week.

The outdoor community space has canceled concerts and most other public gatherings for the summer due to the pandemic. But it is still hosting food trucks and a farmers market while taking extra precautions, said Stephanie Braun, overseer of The Hub.
Up to two food trucks are permitted on site at a time and line markers to help customers maintain 6 feet of social distancing have been set up, Braun said. Picnic tables have been removed and customers are asked to either take their food off-site or eat in their vehicles.
A calendar with information about the food trucks that will be visiting is available at hubfoodpark.com.
The River Valley Makers Market also will be at The Hub from 11 a.m. to 4 p.m. on the first Saturday of each month from June through October.

Credit: Source link