The  2021 Ram 1500 TRX expands the light-duty lineup and sets new benchmarks for power and performance among half-ton pickup trucks with the 6.2-liter supercharged HEMI V-8 engine.
Rated at 702 hp and 650 lb.-ft. of torque, the 6.2-liter supercharged HEMI V-8 engine powers the Ram TRX to a top speed of 118 mph. Combined with a high-torque-capacity TorqueFlite eight-speed automatic transmission, the Ram TRX delivers a new level of performance: 0 to 60 miles per hour (mph) in 4.5 seconds and the quarter mile in 12.9 seconds at 108 mph.
The 6.2-liter supercharged HEMI V-8 engine delivers top output for extended driving sessions without degradation in performance. 
The 2021 Ram TRX benefits from up to 32 in. of water fording, up to 8,100 lbs. towing and a maximum payload capacity of 1,310 lbs. 
Ram Trucks

Aesthetic design pairs form with extreme function
The 2021 Ram TRX features an aggressive stance. The Ram TRX features an acute "hourglass" body design that features composite flares and fender wells that have been stretched to cover aggressive 35-in. Goodyear Wrangler Territory 325/65/R18 All-Terrain tires. 
Ram TRX is 8 in. wider when compared to the rest of the Ram 1500 lineup, and the composite flares help to compensate for a 6-in. increase in track width. Normally, Ram 1500 features a wheel that is 8 inches wide, but the TRX design team had to accommodate a wheel that is 9 in. wide. 
The front axle was shifted 20 mm forward to accommodate the 35-in. Goodyear Territory All-Terrain tires that were designed exclusively for TRX. The 35-in. tires are available with 18-in. beadlock-ready wheels with accent color-matched rings. 
LED clearance marker lights flank the front bumper, creating a light signature that further sets TRX apart from anything on the road – day or night. A new, aluminum hood features bright LED clearance lights that are integrated in the hood scoop. 
The hood scoop is responsible for 50 percent of air entering the 6.2-liter supercharged HEMI V-8 engine while the other 50 percent enters through the grille. Design elements, like the functional hood scoop, are complemented by secondary details, such as the functional air curtain just outboard of the headlamps, relieving high pressure zones at the front corners and allowing air to pass through the fenders. 
TRX buyers can choose an optional full-length rock rail for added body/sill protection or traditional off-road powder-coated aluminum running boards. Optional body-side and hood graphics are available as a pair or separately. 
Ram TRX features new box outers made of steel and are wider than that of a traditional Ram 1500. A bed-mounted spare tire carrier is available in addition to the standard full-size spare tire that sits underneath the bed, between the rear axle and trailer hitch. Premium LED taillamps are standard on TRX and the bezels allow for the Blind-spot Monitoring function to see around the extended box outers.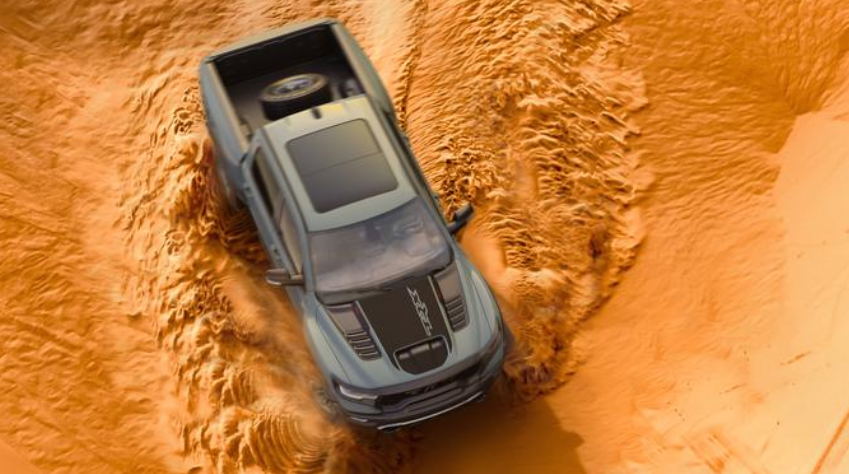 Ram Trucks
Dual-path induction system enables extreme performance
Stratospheric power and performance numbers were achieved in part through a new, innovative dual-path air induction system that ensures the 6.2-liter supercharged HEMI V-8 engine receives a steady supply of clean, cool air regardless of inbound dirt and debris. 
The Ram TRX uses two paths to draw in outside air and routes it to a large, 29-liter air box that filters out dirt, sand, debris and water before getting anywhere near the engine. The innovative dual-path system pulls in outside air from a functional scoop in the hood and the upper edge of the grille. Air entering the grille flows to the bottom front of the air box, guided by tailored panels. The hood scoop ducts air to the bottom rear of the air box via ports that seal to the hood when it is closed. An air box support bar is precision-mounted in the engine compartment during vehicle assembly to ensure the hood intake seals to the air box ducts to prevent engine-heated air from entering the system. 
Directing incoming air to the bottom of the air box helps dirt and water settle out before the air reaches the filter elements, ensuring that the Ram TRX continues to perform in the most grueling environments. A one-way drain in the bottom of the air box evacuates water even when the vehicle is moving. Intake air is drawn upward from the box through twin, heavy-duty air filters that provide 198.4 square inches of filter surface area, four times the dust trapping capacity when compared to the closest competitor, to remove any residual dust or sand before the air is ducted. Unfolded, the filter surface medium covers 13.3 sq. ft. 
The entire Ram TRX intake system is engineered to minimize power-robbing air restrictions while ensuring only clean, cool air reaches the engine. The Ram TRX's air box is mounted at the top of the engine, making it easy to access should the owner choose to field-clean the high-performance filter elements. 
Launch Control is standard with the 2021 Ram TRX and manages tire slip while launching the vehicle to give the driver consistent straight-line acceleration. Wheel speed sensors watch for driveline-damaging wheel hop at launch and, in milliseconds, provide inputs to the powertrain control module to modify the engine torque to regain full grip. 
The Ram TRX is also equipped with Jump Detection, which uses wheel-speed and ride-height sensors and accelerometers at each corner to identify when the vehicle is airborne and acts to prevent driveline-damaging power spikes. Acting in milliseconds, Jump Detection modifies engine speed and torque, gear selection, transfer case torque split, damping rates and other powertrain and suspension components through the landing to deliver optimum performance.
Ram Trucks

Dynamic drive modes

The 2021 Ram TRX uses performance-tuned software to pre-configure and distinguish five dynamic modes – Auto, Sport, Tow, Snow and Custom – enabling drivers to choose a vehicle setting that ideally meets their requirements and ambient conditions. The drive modes separately control the four-wheel-drive system, throttle response, transmission, paddle shifters, suspension and the electric power steering. All modes use active slip control that prevents binding and excessive slip from front to rear. 
Custom mode allows the driver to personalize the vehicle's performance with a selectable driving experience, offering a multitude of vehicle system combinations. 
Separately, the Ram TRX features three dynamic off-road modes – Mud/Sand, Rock and Baja – enabling drivers to choose a setting that best fits the terrain around them. Like the on-road modes, the off-road drive modes control several systems, including the four-wheel-drive system, throttle response, transmission, paddle shifters, suspension and steering. 
Ram Trucks

Engineered to handle the most punishing conditions with extreme capability
The Ram TRX boasts a ground clearance of 11.8 in. due in part to a 2-in. ride height increase when compared with the rest of the 1500 lineup, along with 35-in. tires. This combination enables TRX to clear surface obstacles easily and at high speeds. 
To protect critical components, including the front axle, transfer case, transmission pan and fuel tank, TRX employs five skid plates. A separate skid plate sits at the bottom of the front fascia, mitigating potential damage, and doubles as a belly pan. Heavy-duty gauge steel rock sliders are an available option. 
An independent front suspension system with active damping uses high-strength aluminum to maintain overall strength and durability. The independent front suspension system includes new front upper and lower control arms made of forged aluminum with special attention paid to the caster and camber angles during suspension cycling. The longer, substantially sized front upper and lower control arms are constructed of 80-ksi high-strength steel and designed with a focus on additional wheel travel and axle track width. This new suspension system features upgraded components to provide more performance and improved endurance. 
Out back, the Ram TRX's rear suspension had to clear packaging barriers and the engineering team took that into consideration with this unique application. The result is an innovative and durable solution that produces greater wheel travel without reducing cargo area in the bed. The 2021 Ram TRX uses an all-new rear suspension system with active damping and an exclusive five-link coil system. The frame's hard points for the five-link suspension system differ when compared to a standard-issue Ram 1500 and allow the Dana 60 rear axle to travel up to 13 in. Overall, rear-wheel travel is increased to more than 13 in. from the standard 9 in., or more than 40 percent when compared to the rest of the Ram 1500 lineup.
The 2021 Ram TRX uses the proven five-link coil suspension configuration and provides better articulation over obstacles than a leaf-spring system. This suspension design reduces friction in the spring system and weighs significantly less than a comparable leaf spring system. At 600 mm in length, the rear springs are the largest ever applied on a non-commercial production vehicle. The coil springs are more than up to the task of handling a maximum payload of 1,310 lbs. and towing capability of 8,100 lbs.. 
New 2.5-in. Bilstein Black Hawk e2 adaptive performance shocks use precision-machined, single-piece construction comprised of rigid aluminum to reduce and dissipate heat and continuously adjust damping forces for optimal body control and terrain isolation. The adaptive performance shocks feature corrosion protection with a durable finish and directional-machined cooling fins aligned with air flow for more effective cooling. 
Dual Electronic Proportional Valves continuously adjust damping forces for precise, independent control of compression and rebound damping. A nitrogen-charged remote reservoir uses a hot-formed, zero-leak tube closure to ensure maximum durability during extreme on- and off-road events.
The 2021 Ram TRX is built at the Sterling Heights Assembly Plant (SHAP) in Sterling Heights, MI.
Credit: Source link