The following is Part 3 of a 12-part special report from Trucks, Parts, Service on the state of the used truck market.
Correctly setting a used truck's price for retail sale has never been easy. That's especially true today with COVID-19 wreaking havoc on freight volumes and altering vehicle supply and demand.
But for dealers whose business models are built on moving trucks quickly and profitably, correctly pricing retail trucks is imperative.
Assuming a truck was acquired for a proper value, setting a retail used truck price often begins with a glance at the current marketplace.
KEA Advisor's Keith Ely says listing sites can offer a glimpse at how other dealers are valuing their equipment but they shouldn't be used exclusively because a truck's advertised price is rarely its final selling price. Better data sources are market reports, such as the one produced regularly by KEA Advisors, which combine actual sales data from dealers across the country to determine average selling prices, days on market and more.
Learn how to move your used trucks faster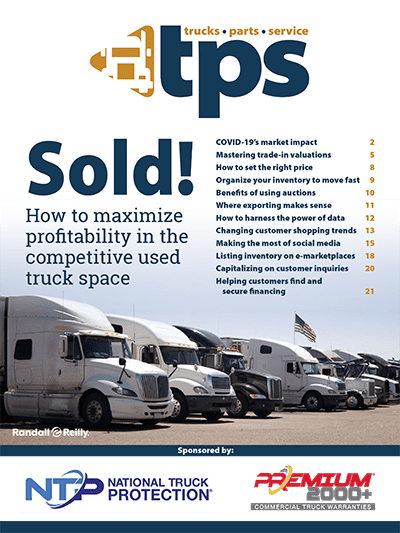 With unsold used inventory depreciating at a rate of more than 2% monthly, efficient inventory turnover is a must for dealers. Download this eBook, "Sold! Best Practices for Moving Used Trucks," to access proven strategies for selling used trucks faster.
When coupled with other market data, dealers should be able to devise a useful pricing range for a piece of equipment that can then be narrowed based on the condition of the unit, likelihood of immediate customer interest and more. Regarding customer interest in particular, many dealers note a truck doesn't have to be priced, reconditioned and ready to move to be promoted to a possible customer.
"When we get our hands on a new truck, I always try to think about our customers and who could use it," says Ron Nelthorpe, president, Riverside Trucks & Equipment.
In cases where customers are immediately interested, price should be set accordingly. A truck sold "as-is" after two days on your lot doesn't need to be marked up that much to be a money maker.
Used truck pricing also requires responding to rapid changes in demand.
Customer activity can be monitored any number of ways, including incoming phone calls, on-site customer visits and Internet website activity. Ely says dealers should make their entire inventory available online and track page views and customer inquiries about each vehicle.
Ely's colleague at KEA Advisors John Whitnell adds, "You ought to know if you are having a valuation issue within 30 days."
Dedicating an employee to oversee updates is a good way to keep inventory turning. "It's not as simple as putting your best salesperson in charge," adds Ely. "You need someone who is meticulous and will keep track of everything."
Whitnell also advises holding at least weekly meetings with management to address issues of inventory and turn rates. He says this facilitates quick reactions to changes and ideally minimizes sales lulls. Trucks that aren't generating any interest shouldn't be kept waiting for the perfect buyer, either.
"Where [dealers] can get in trouble is when we take a truck that should be wholesale or 'as is' and try to turn that into a retail sale," says Craig Kendall, specialty markets manager, The Pete Store.
Whitnell adds, "In the used truck game, make and miles is 50 percent of the evaluation. But it's the other 50 percent where you get hurt."
Don't Miss A Story! Get the TPS Daily newsletter.
Credit: Source link