The U.K. is hurtling into the peak season for pre-holiday shipping with a public growing weary of pandemic restrictions and even wearier of a Brexit that looks increasingly likely to occur Jan. 1 without much of a trade deal to smooth the transition.
So the inevitable collision this winter of an abrupt split from the European Union and a Covid-19 resurgence has the government, industry and consumers here asking: Is Britain's heavily import-reliant economy resilient enough to withstand both shocks?
Mark Whitworth, the CEO of U.K. port operator Peel Ports for the past decade, says in an interview that he's "absolutely certain it is for a variety of reasons." 
Whitworth says business is currently operating at 90%-95% of year-ago levels. Container volume started showing good year-on-year growth in July and August, and he's expecting to see more recovery from September onward. Shipments of cars, in particular, took a heavy blow early during lockdown but are getting back to normal, he says.
A lot of companies are still playing catch-up rebuilding inventories so the seasonal pre-Christmas logistics frenzy will "come a little later," Whitworth says. "I appreciate that there's a lot of uncertainty, of course I do, but actually when I look on the ground what's really going on, generally our business is still quite buoyant," he says.
"Our forecast contains the assumptions that the virus remains under control and a 'bare bones' Free Trade Agreement is done by year end but one or both could easily prove wrong. If there's a perfect storm, the best the economy can hope for is a slower recovery. In the worst case, it would slip into reverse."

—Dan Hanson, Bloomberg Economics
Besides the economy's recovery, Whitworth says there are structural changes underpinning U.K. trade — more shipping capacity, storage space and entry points — that should help minimize potential Brexit snarls, like those Bloomberg's Joe Mayes reported about last week.
The shipping industry is already anticipating potential logjams and finding ways around likely choke points. Peel owns and operates the Port of Liverpool's 400 million-pound ($530 million) deep-water container terminal that opened in 2016.
This week Liverpool will start handling a second weekly call from a container line bringing goods like fresh produce from Spain and Portugal. The service relies more on rail and reduces truck traffic on the well-worn routes across Europe, under or across the channel from France through U.K. terminals at Dover and Folkestone.
Before 2021, though, leaving the EU's customs union means working out the bugs of a new IT system.
"There's still some work to do, but if we continue in the way that we are, I think it will be a problem that proves to be not as significant as the speculation around it," says Whitworth, who says previous Brexit preparations that proved to be false dawns have been good practice for the real thing.
"Did we see a take-up in warehouse utilization? Yes we did. Did we see significant stocks built in advance of the world sort of falling off the cliff? Yes we did. Did it prove to be necessary? No it didn't, and I think there's been a whole load of lessons learned from that experience."
—Brendan Murray in London
Charted Territory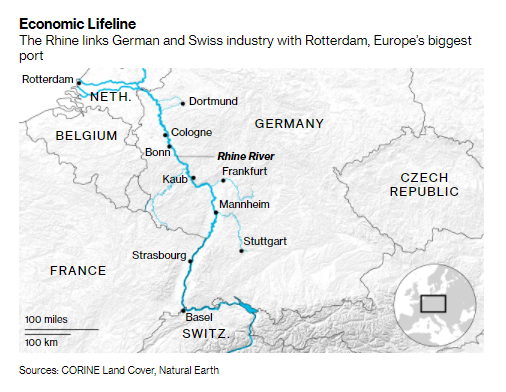 Germany is re-engineering Europe's most important river: The Rhine is the country's main economic artery. Keeping it flowing may require new boats, once-taboo locks, and even changing the current of the river itself.
Today's Must Reads
China rebound | China's exports continued to expand in August, as the country's major trading partners gradually resumed business activities. Imports unexpectedly dropped. Separate figures showed Taiwan's exports rose to a record in August.
Swing states | With two months to go until Election Day, U.S. President Donald Trump is trying to make good on a number of trade promises to protect key constituencies in swing states to bolster support for his campaign and vulnerable Senate Republicans.
Controversial adviser | The U.K. named former Australian Prime Minister Tony Abbott as an adviser to its board of trade in the face of criticism from opposition lawmakers and civil rights groups over his views on women, sexuality and climate change
Rare ambition | The U.S. and Europe's ambition to boost production of rare raw materials used in electric vehicles and wind turbines and reduce dependence on China will face obstacles, including higher costs and environmental concerns.
Younger truckers | The U.S. trucking industry is struggling to fill seats in commercial vehicles as a shortage of truck drivers is forecast to double in the next decade. Could lowering the age of drivers be a solution?
Border delays | Pakistan's trade with neighboring Afghanistan has been declining for years, but now delays in shipment clearance are threatening to undermine their bilateral commerce even further. 
On the Bloomberg Terminal
Decoupling threat | The worsening conflict between China and the U.S. has damaged bilateral trade, but a complete decoupling between the two largest global economies would be even more damaging to China's long-term growth prospects, according to Bloomberg Economics.
Soup momentum | Sales gains stemming from Covid-19 will continue for Campbell during the first half of fiscal 2021, albeit at a smaller scale. Bloomberg Intelligence is still concerned that lack of product availability due to supply-chain constraints will limit the upside.
Use the AHOY function to track global commodities trade flows.
Click HERE for automated stories about supply chains.
See BNEF for BloombergNEF's analysis of clean energy, advanced transport, digital industry, innovative materials, and commodities.
Click VRUS on the terminal for news and data on the coronavirus and here for maps and charts.
Like Supply Lines?
Don't keep it to yourself. Colleagues and friends can sign up here. We also publish Balance of Power, a daily briefing on the latest in global politics.
For even more: Follow @economics on Twitter and subscribe to Bloomberg All Access for full global news coverage and two in-depth daily newsletters, The Bloomberg Open and The Bloomberg Close.
How are we doing? We want to hear what you think about this newsletter. Let our trade tsar know.

Credit: Source link