It doesn't matter if you're a newbie to the rock-crawling, desert-spanning, forest-dwelling outdoor trend du jour of overlanding, or, if you're an old dirtbag who's been packing up a truck and traveling the far-from-beaten path since the '70s: You're gonna need a burly and practical pair of pants. To be a true overlander means not just sitting in your cab and getting a little dusty while setting up camp, it also involves stuff like scooting under your truck to attach recovery straps, slogging through mud to pull winch cables, or getting down on a knee to check tire pressure.
To complete all the tough tasks you encounter while overlanding without compromise, it's crucial to have a great pair of pants that will move with you and give you tons of options for storing tools, knives, plus other odds and ends—and be made of stout enough materials that will last multiple seasons. Since it's no fun to be in the middle of an outdoor adventure and have to deal with a blown-out seam or a ripped-off pocket or just plain uncomfortable pants, we assembled the best and most useful pants to kick off your start to the fall overlanding season.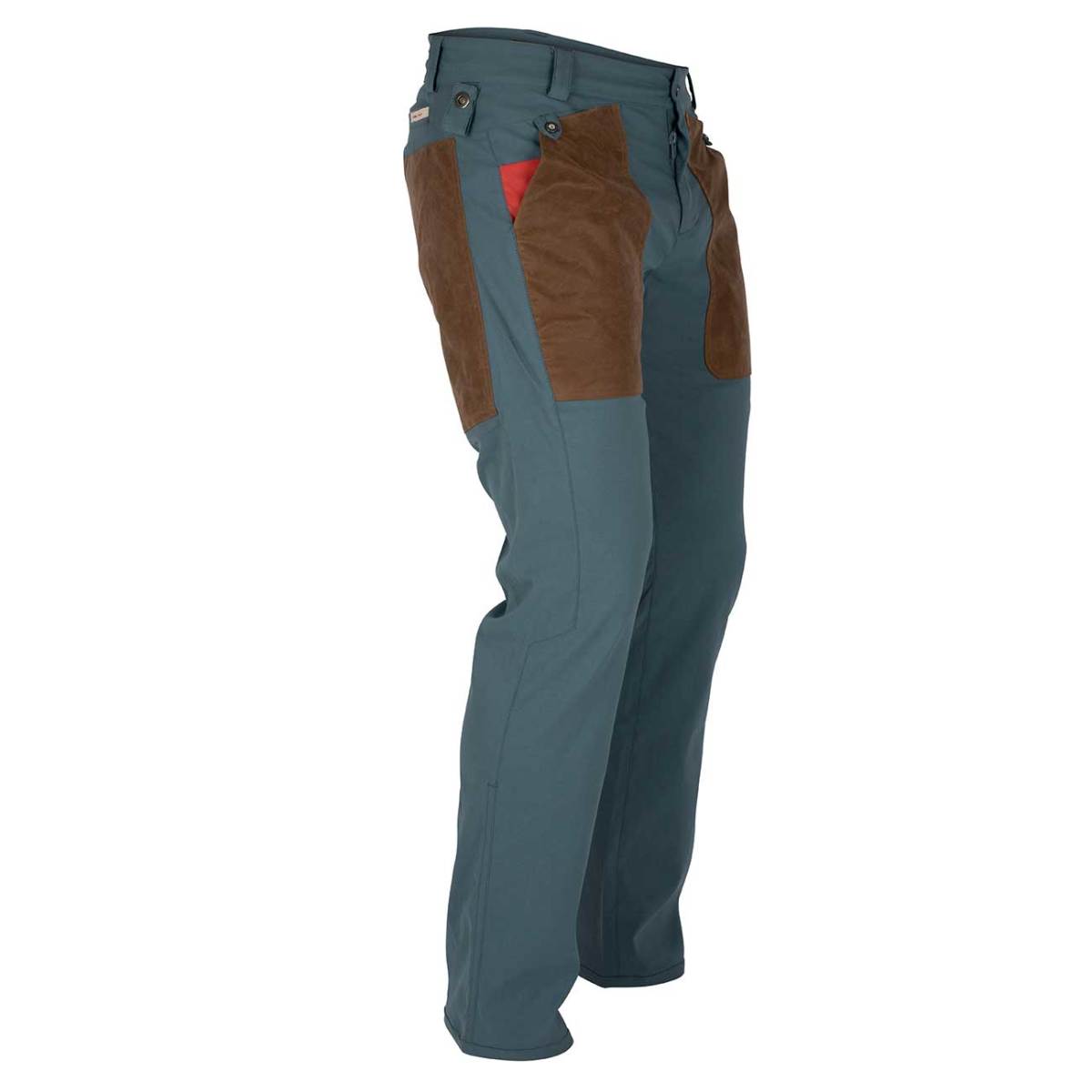 Amundsen
Field Slacks
These near-indestructible but super-stylish pants from Norwegian outfitter Amundsen would pair best, aesthetically, with those overlanders piloting an old Land Rover Defender or beat-up Mercedes-Benz Unimog. Crafted with a combo of stretchy Cordura and buttressed by a double layer of waxed cotton-canvas panels on the thighs and seat, these fitted pants will move well with you while jumping in and out of the driver's seat, offering plenty of protection from any wilderness encounters. Nice details include a handy loop with snap closure on the right side for securing a sheath or keys, and a red watch pocket made from waxed cotton sourced from storied textile manufacturer British Millerain.
[$269; amundsensports.com]
Get it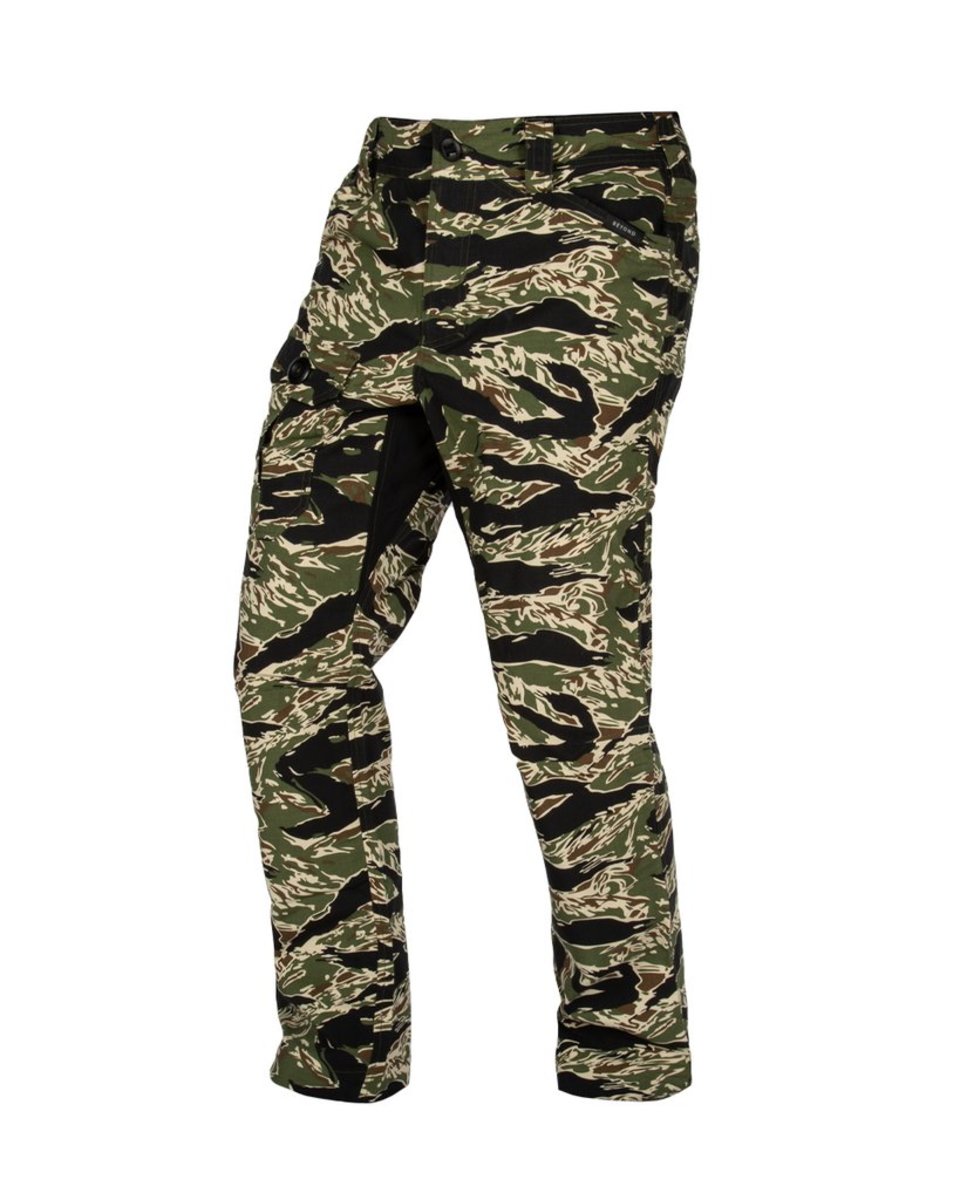 Beyond
K5 Maker Pants
Designed with NYCO (a nylon and cotton blend) ripstop, these pants from Beyond are light enough to protect your legs during unseasonably warm autumn weather, while still tough enough to ward off rips and tears from scrambling around gnarly terrain. Styled in a homage to the classic BDUs that used to be issued to the U.S. military (these also come in regular Army green plus three camos: woodland, tiger stripe, and desert tiger stripe), but updated with modern tweaks and stylish nods like one large front pocket with an outsized button and a tab at the cuff that allows you to adjust your hem with two buttons. The generous pockets, arranged in typical jeans configuration, have mesh at the bottoms for quick draining and fast drying (and that limits dirt and lint buildup) after encountering sudden storms.
[$100; beyondclothing.com]
Get it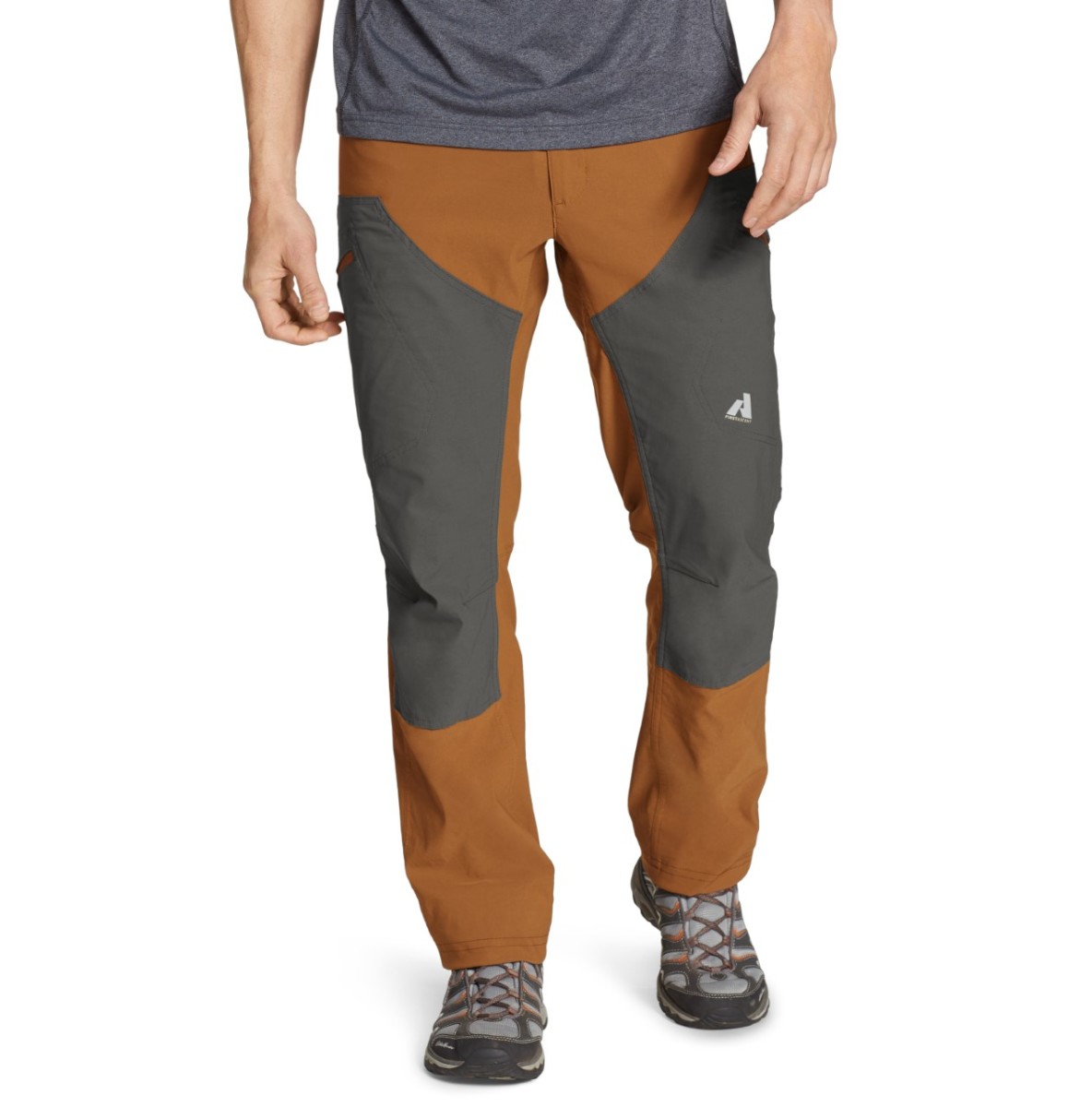 Eddie Bauer
Guide Pro Work Pants
For those rig jockeys that prefer a more technical, soft-shell type pant while wheeling through the woods, this pair from Eddie Bauer will do nicely. They are built from an active stretch fabric called Flexion that has a DWR finish to ward off wetness, a UPF of 50+ to protect from harmful UV rays, and a soft waistband made out of an odor-control material. Along with your normal front and back pockets, they have two deep thigh pockets with slanted, zippered openings for your sundries that need to be most accessible. The front legs are covered by a reinforced panel to increase wear, and the athletic, close fit—with articulation at the knees—allows for maximum movement without the bulk of typical cotton canvas pants.
[$99; eddiebauer.com]
Get it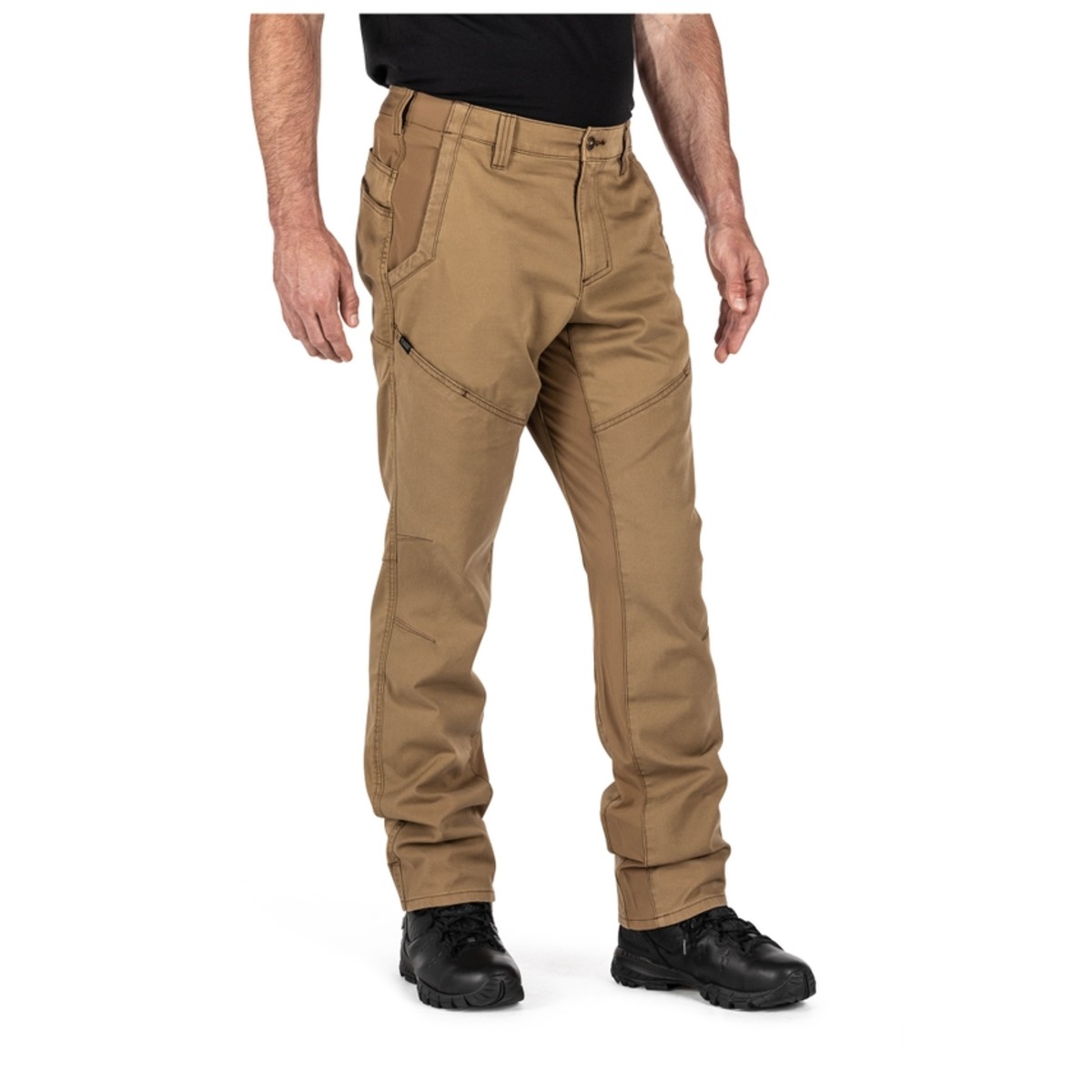 5.11
Quest Pants
Lots of extra stretch makes these pants ideal for scrambling in and around your rig—in the main fabric itself and in special four-way stretch panels in the waist. Though super-flexible, the Quests still have a soft hand that feels like well-worn cotton, plus the addition of gusseted panels and articulated knees bump up the comfort level even more. There's lots of room for trail tools within the eight pockets, including two deep front pockets reinforced with special nylon thread and two slim and easy-to-access thigh pockets. Added reinforcement is built into the belt loops so you won't have to worry about blowouts in the outdoors—and at the hems to reduce wear and tear from dragging on rocky ground.
[$75; 511tactical.com]
Get it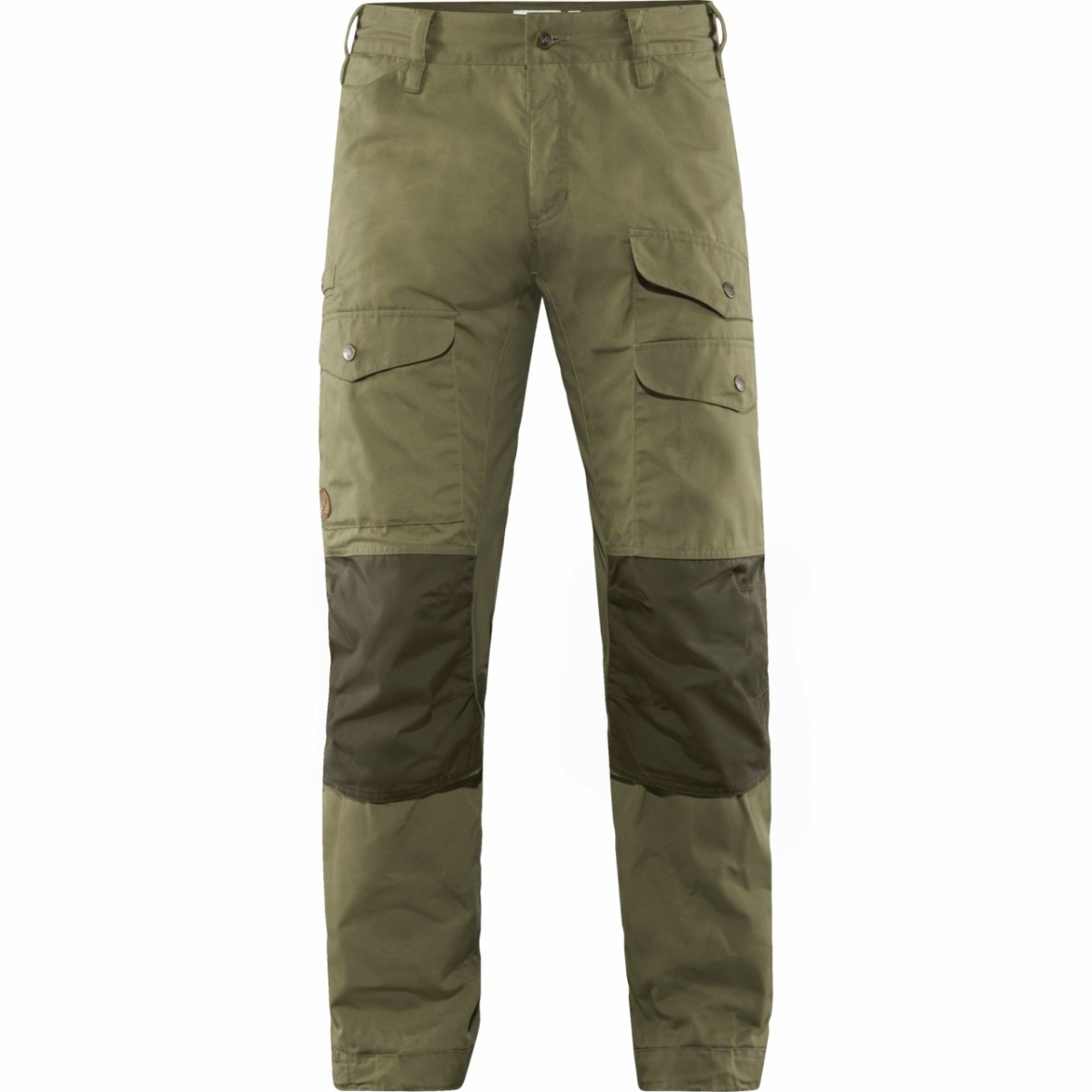 Fjällräven
Vidda Pro Ventilated Trousers
There's a reason why Fjällräven's line of outdoor adventure-ready pants draw rave reviews from those who make a living traipsing across wildernesses: superb attention to detail and innovative designs. The new Viddas are updated from the regular model with hip-to-thigh zippers on each side for instant ventilation, a knife pocket on the right thigh, and a snap loop for holding an axe. They're still constructed from Fjall's burly but comfortable G-1000 eco-friendly textile, which is made from a recycled polyester blended with cotton and can be waxed to increase weather resistance and durability. Warning: There's little to no stretch in the fabric, which you won't notice much because the tailoring is so spot on. And there are also no back pockets, though they have three big thigh pockets, two with an additional inner mesh pockets for phones or smaller items. The hems also feature buttoned (and removable) strap adjustments along with a hidden boot-lace hook.
[$165; fjallraven.com]
Get it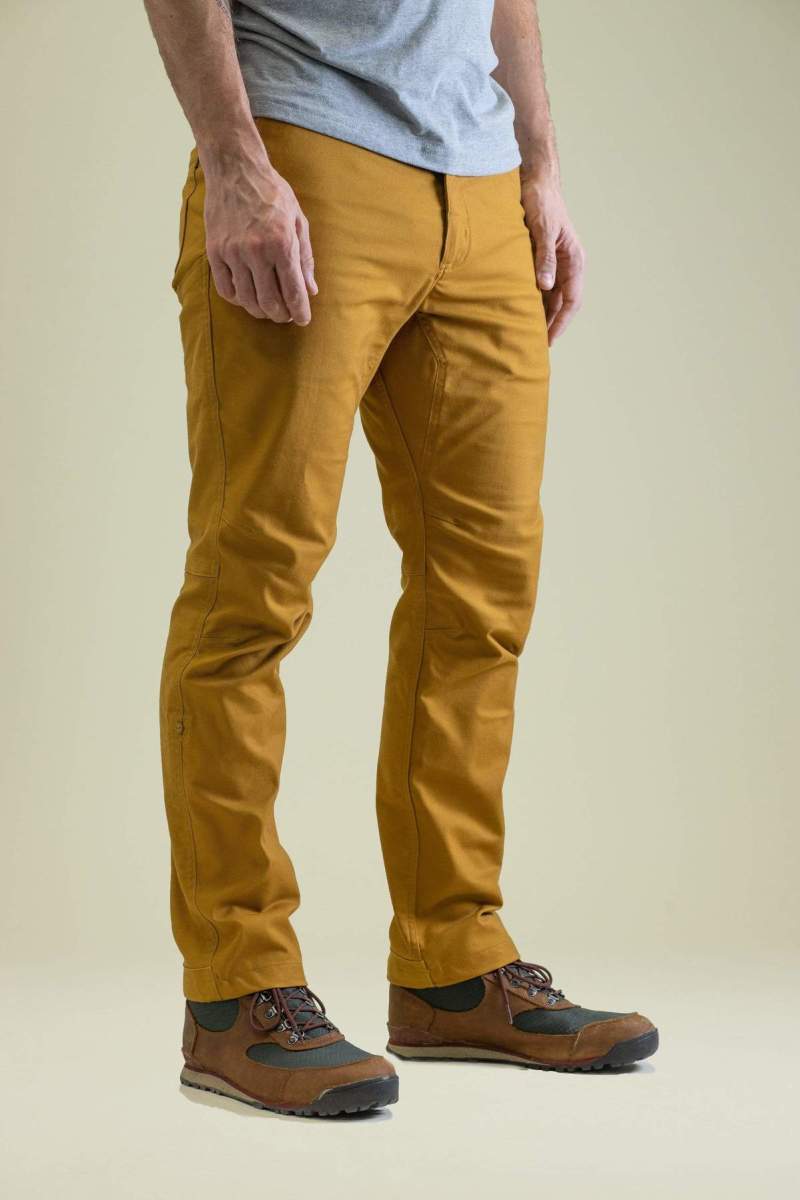 Livsn
Flex Canvas Pants
Though these pants look, at first blush, like they are just some normal chinos, closer examination (and time in the field) reveals tons of top-quality details and a design that proves they're just as at home in the dirt and dust as out to a casual dinner. The classic silhouette is laden with features like knife pockets on the rear of each thigh, interior of the front pockets and upper lined with mesh for extra airflow, zippered rear pockets, and phone sleeves in each front pocket. A nice addition for cyclists is a trick leg roll-up system that includes a small outer button that mates with an inner strap enhanced with 3M reflective tape. The stretchy cotton/polyester blend feels durable and comfortable, like your favorite pair of worn-in jeans, but boasts superior strength and enhanced weather resistance.
[$99; livsndesigns.com]
Get it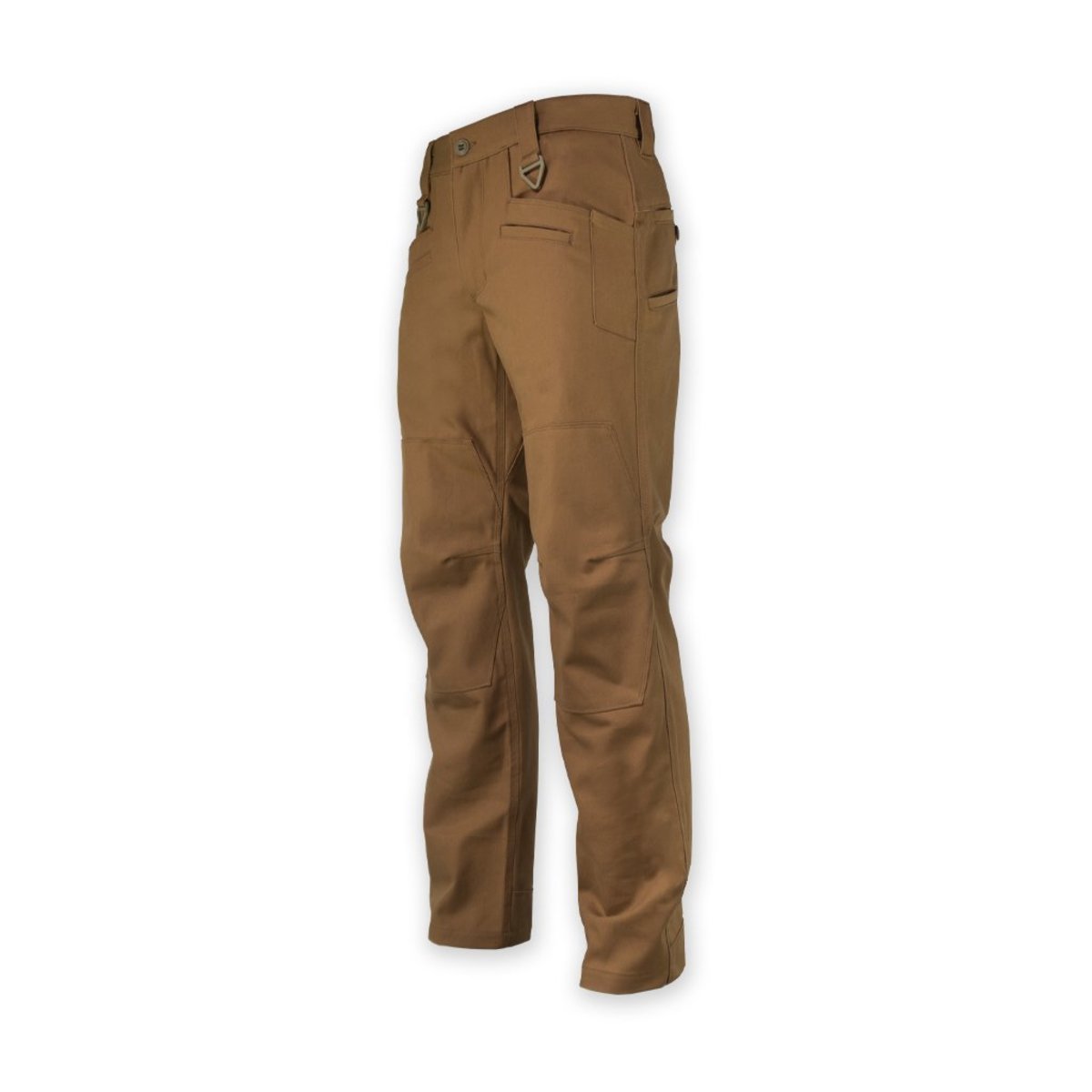 Prometheus Design Werx
Raider Werx 100C Pants
Need a bomber overlanding pant that blasts beyond the usual Carhartt-style work pant? Step up to Prometheus's thoughtfully designed, well-crafted, and made-in-the-USA Raider pants. You'll get all of the usual goodness of traditional work pants, like cotton duck canvas, side pockets and reinforced seat and knees, but dialed up to 11. Cool details at first sight include buttons attached by webbing instead of thread, nylon delta rings at the end of the front belt loops, dual EDC tool pockets for knives or multitools, and a small, internal hanging pocket for small, easily lost items like a key. The duck canvas is held together with super-tough T40 nylon thread—double and triple stitched, along with bar-tacking at stress points. And along with the typical reinforcement on your butt and knees, the rear hems are also beefed up for improved wear.
[$139; prometheusdesign.com]
Get it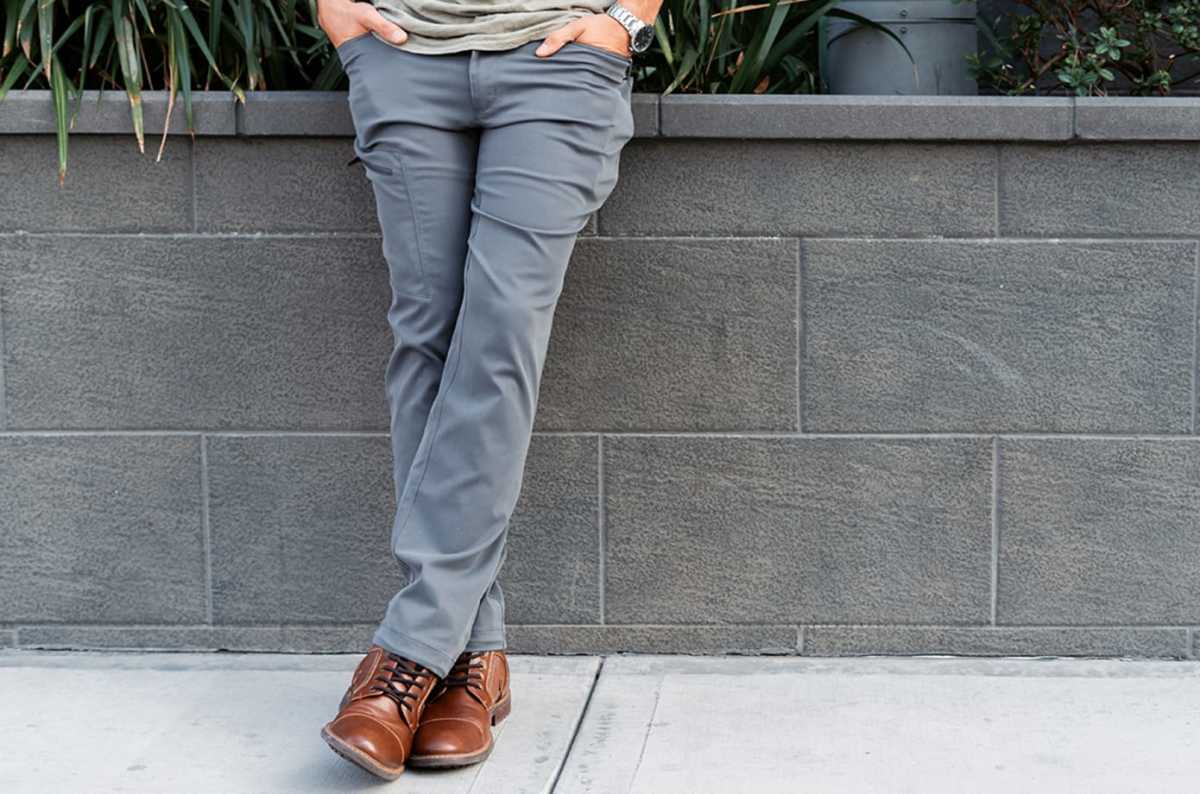 Satu
Adventure Pants
Don't discount these pants because they have a slim-fitting profile, they are still packed with features that make them an ideal overlanding pant for those wanting to cut a more stylish figure on the trail. Unique among most adventure pants because the Satu's don't just use a fabric mixed with Spandex or some other polymer, it's made from a proprietary, Japanese-designed mechanical stretch fabric that ends up being lighter, stronger, more odor resistant, and faster drying than most synthetic blends. But the hits go beyond the next-gen materials, the pants also have a ton of trail-worthy features like a gusted crotch for maximum movement, a lace clip integrated into the hem for instant gaiters, side zipper vents, and webbing on the waistband for on-the-go adjustments.
[$150; indiegogo.com]
Get it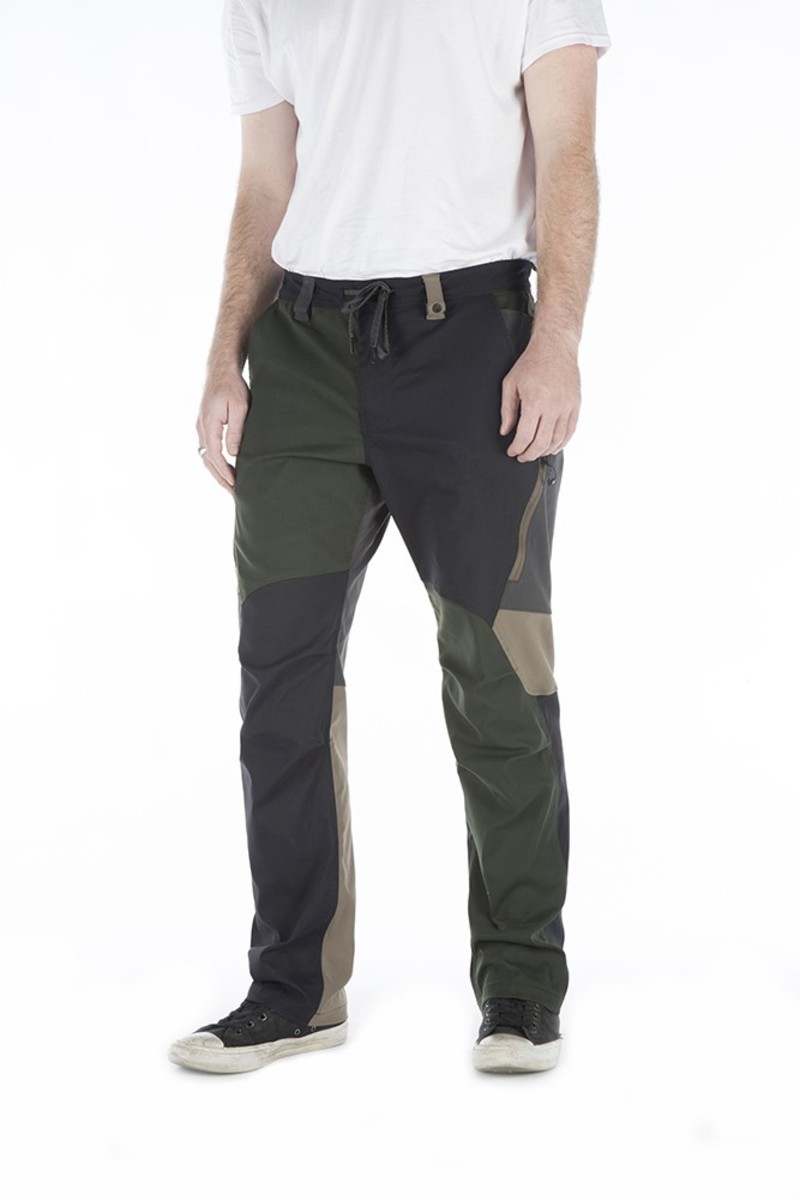 686
Anything Multi Cargo Pants
For something a little different, check out these Anything pants from 686. With a looser fit, some wild color block options (perfect for those tired of the standard olive green and khaki brown), and a plethora of useful pockets and cool features, these pants are the antidote to wearing boring work pants for outdoor adventures. They are made with a light and breathable stretch nylon that's treated for water resistance and come with a neat drawstring you can use inside or outside of the waistband for those non-belt fans. It still has belt loops (one with a keyring eyelet), plus 13 pockets, which include dual side pockets with a mesh lining for ventilation, smartphone pocket, ID or credit card pocket with a RFID-blocking liner, and a slick, secret stash pocket integrated into the rear belt loop.
[$120; 686.com]
Get it
Walls
Ditchdigger Work Pants
If you're on a tight budget, but still need a pair of burly pants that will perform well for years (with a few special details not found on regular work pants), go for the Ditchdiggers. They're made from thick (but not too thick) 11-ounce cotton duck canvas with a bit of added stretch for enhanced movement while tending to your rig on the trails, plus a cool, hidden stretch waistband to give you that extra bit of give when bending down. All seams are triple-stitched for ultimate strength and bits of reinforcement are added to the edges of the front pockets, at the knees and at the backs of each hem. The doubled-up knee fabric also has openings that allow you to slip in knee pads. There's also a slim side pocket on the right thigh that's perfect for a phone or tools.
[$45; walls.com]
Get it

For access to exclusive gear videos, celebrity interviews, and more, subscribe on YouTube!

Credit: Source link