TURIN — Where could one find a walking cow, a human-sized red falcon, a princess, candy flying through the air and Uncle Sam on the Fourth of July? Only at Main Street Turin from west to east during the third annual Independence Day Parade.
The nearly two-mile route from the West Road intersection with West Main to where the street ends at the South Lewis School on East Road included an estimated 200 people under blue skies and bright sun.
Although very few people wore masks, the vast majority of parade-watchers were people sitting in front of their homes with their family groups from two to 10 people. Between those groups there were, in most cases, much more than six feet of distance.
As almost 100 vehicles, floats, mascots and walkers made their way down the route, people were slightly more concentrated at the village's main intersection with State Route 26 and on East Road to the high school, where a number of families were parked perpendicular to the road.
Even in those locations, however, the small groups were separated by at least a few feet.
Sitting in a line of lawn chairs in front of their house with their children and grandchildren enjoying the parade, Ken and Sandy Allen said if the route had been crowded, they would have worn a mask but as it was, they felt safe to go without.
"Probably if it was somewhere else and there was a bunch of people we would have worn one," Mr. Allen said.
"Or we probably wouldn't have even gone," Mrs. Allen added.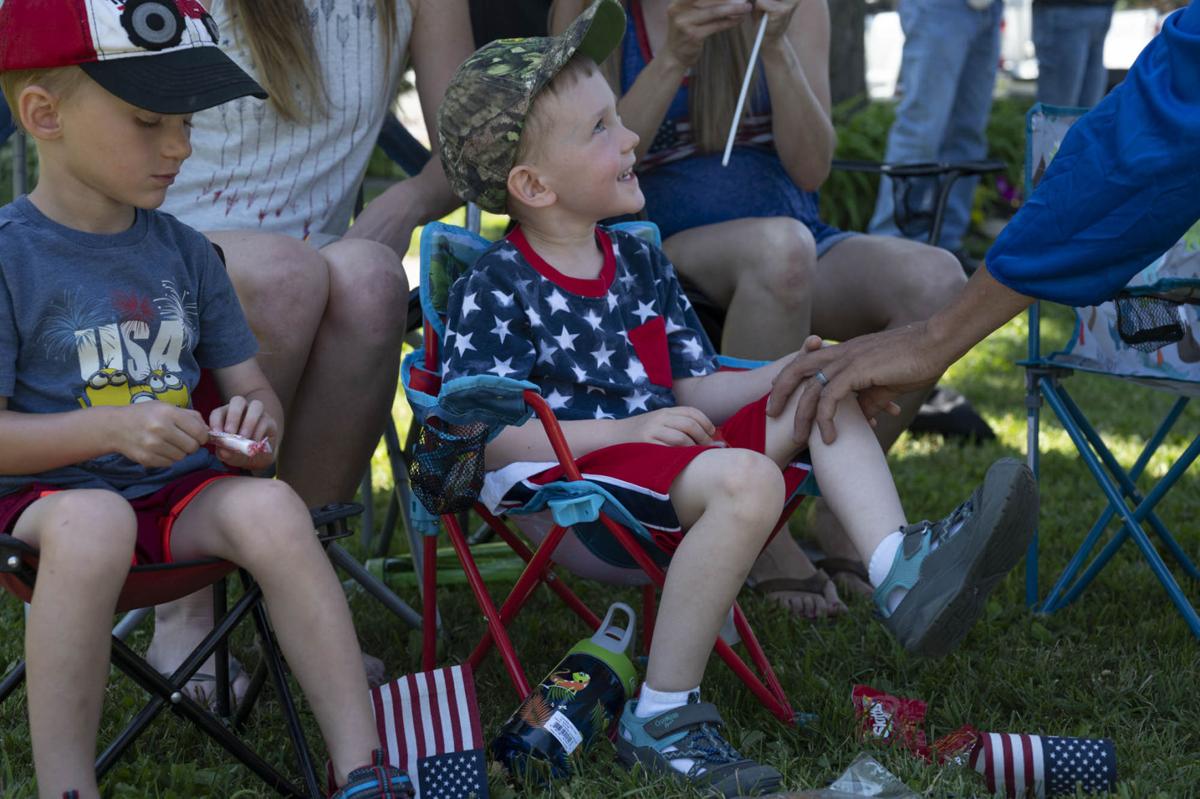 Sisters Michelle and Jackie Beagle, who relaxed in their chairs at the foot of their driveway, both wore masks while sporting festive gear like a red and white "Cat in the Hat" hat re-purposed for patriotism with the addition of a blue-infused tie-dyed shirt, said that their health issues that could make them more vulnerable to COVID-19 were not the primary reason they wore masks.
"We both work in healthcare. It's real [the virus] and yeah, the media blows it up, but until there's a vaccine we have to be vigilant," Michelle Beagle said, "Wearing a mask is about respect for our fellow man."
"It's an act of kindness to put it on," Jackie Beagle agreed, "Protecting each other, not ourselves."
Dairies, restaurants, churches and snowmobile clubs sponsored floats or trucks with flags waving while riders tossed candy to children as they pass.
Scrambling to grab his fair share of the goodies falling at his feet, Wyatt O'Brien, who said he is "this big" pointing at the top of his head when asked his age, was old enough to know what he was there to see.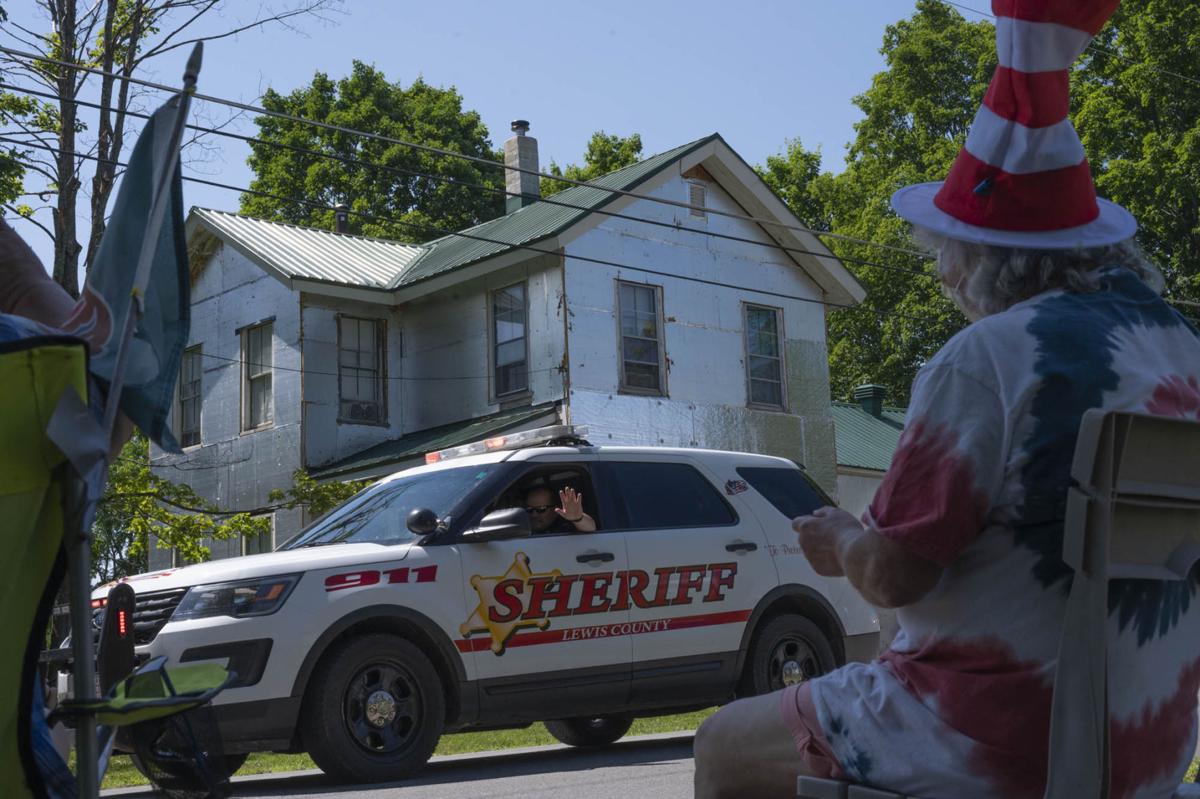 "Fire trucks!" 3-year-old Wyatt said, hard-pressed to tear his eyes away from the flashing lights of the approaching trucks of the five volunteer fire departments participating in the event.
Lewis County Search and Rescue, the county's 2020 Dairy Princess Hannah Raymond, the Turin Library, Sheriff Michael Carpinelli campaigning for governor, and three horses courtesy of Still Meadow Ranch joined meticulously restored classic vehicles and other parade participants to entertain the crowd.
"This is a lot bigger than last year," said Cliff Widrick who sat in the back of a pickup truck with his wife Kay and their affectionate dog Blue.
"I think it's more than double, maybe even triple the size," added Mrs. Widrick, in terms of both parade participants and spectators.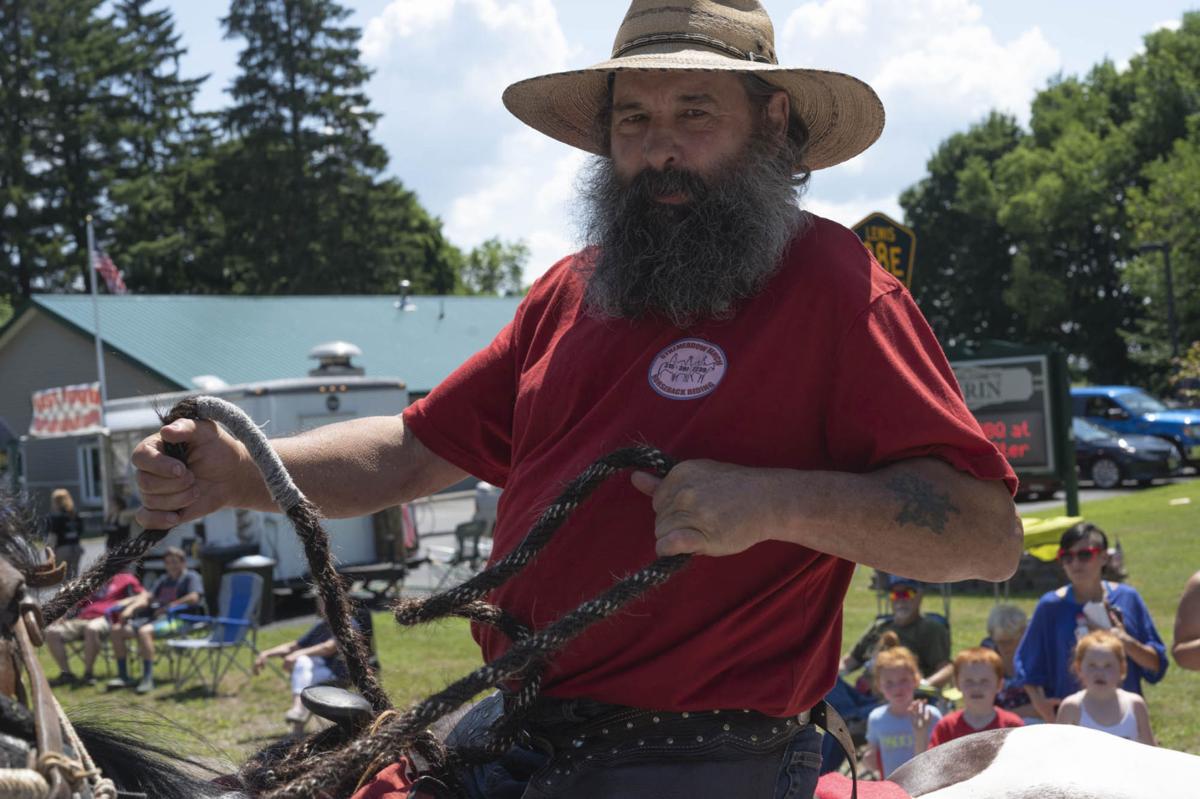 The parade was started three years ago by Mayor Josh Leviker, who marched this year in an Uncle Sam costume along with resident Mary Rhodes dressed as the Statue of Liberty. While he had said the parade could be considered a protest if the terms of the phased economic reopening from the region didn't permit it, his assertion that the parade's "real estate" would naturally support social distancing proved to be true.
Barrows food truck parked near the library to sell ice cream and food to parade-goers. Despite a technical glitch with their ice cream maker early in the day, they said business was "better than expected."
Ms. Rhodes said the parade was a moment of "normalcy" and celebration they all needed at a time when there isn't much of either.

Credit: Source link