This marks the most significant evolution of the Volvo VHD model in decades "Everything we've done to improve the model to make it more versatile and reliable also extends the life of the vehicle and increases driver productivity, safety and comfort," says John Felder, product marketing manager, Volvo Trucks North America.
Safety and productivity features being introduced on the VHD include Volvo Dynamic Steering (VDS) and the next generation of Volvo Active Driver Assist (VDS). The VDS system delivers a safer, more comfortable driver experience by adding torque to reduce steering strain at lows speeds and remove vibrations caused by rough terrain. "VDS reduces the force in the steering wheel up to 85%," says Andy Hanson, vocational product marketing manager. "It also reduces steering wheel inputs from rough surfaces. Both of these elements help reduce driver fatigue. VDS is only available on VHD axle back versions."
VDS also makes adjustments to improve stability at road speeds when encountering crosswinds, highway crowning, soft shoulders, or emergency situations like tire failure. The system features a powerful electric motor mounted above the hydraulic steering gear to provide additional torque when necessary. It receives input 2,000 times per second from sensors throughout the truck monitoring yaw rate, steering angle, wheel speed and the driver's own actions.
The VHD now offers a more modern interior with ergonomic dash and Volvo's Position Perfect steering wheel.Volvo Trucks North AmericaThe next-generation VADA provides integrated radar/camera capabilities, automatic emergency braking, highway departure warnings and adaptive cruise control. VADA reduces front and rear end collisions by up to 82%. Volvo Active Driver Assist combines camera and radar sensors to detect metallic objects and vehicles that are stationary or vehicles braking in front of a truck. If a metallic object of size is detected, audible and visual warnings are made to alert the driver, including red warning light flashes reflected on the windshield. Warnings are displayed up to 3.0 seconds before an imminent impact with the stationary object. If the system recognizes the stationary object as a vehicle, and the driver does not take action, Volvo Active Driver Assist will automatically alert the driver and engage the brakes to help the driver mitigate the potential collision.
The VHD models also build on Volvo Truck's connectivity solutions. "We have roughly 260,000 Volvo trucks rolling across the U.S., Canada and Mexico — 153,000 of them are connected," says Magnus Koek, vice president of strategy and band management. This allows efficiencies, such as the availability of onboard wireless updates. Next generation remote programming sends alerts when software upgrades are available. Drivers choose when and where updates are done.
Revamped exterior and interior
On the exterior, the VHD features a new grille design, as well as LED high/low beam headlights. The fully sealed headlamp component offers a brighter, more focused beam for increased visibility. An available de-icing feature burns through ice and snow that accumulates on headlamps in cold weather. "The fender flares and air intake have been redesigned," Hanson point out. "The air intake in now larger and bolder than before, yet the hood still retains the capacity for a hood hatch to check daily fluid levels in snowplow applications."
A new VHD bumper features a 45mm tow pin rated for 80,000 lbs. This allows you to get out of any situation, even fully loaded. By recessing the tow pin into the bumper, the VHD day cab is able to retain a 113.6 in. bumper to back of cab (BBC) dimension. "Previous VHD center tow pins extended out in front of the bumper," says Hanson. "It's also important to note that the VHD will retain its three-piece bumper construction, allowing for easy serviceability and reduced costs."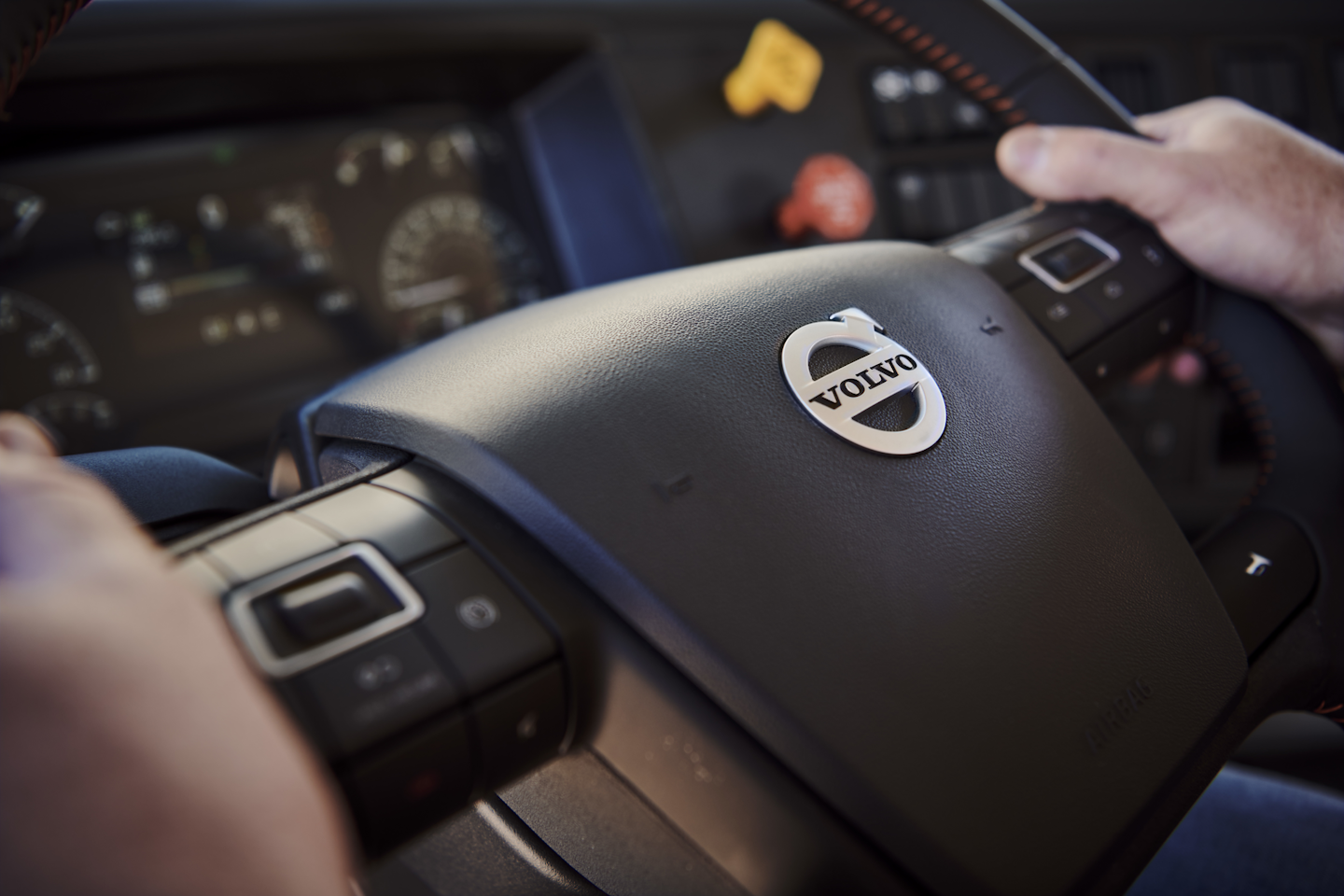 On the interior, the truck's ignition has been moved to the lower left-hand side of the dash while the steering wheel buttons have been made more touch friendly and clustered to inspire driver confidence.Volvo Trucks North AmericaOn the interior, the truck's ignition has been moved to the lower left-hand side of the dash while the steering wheel buttons have been made more touch friendly and clustered to inspire driver confidence. "The VHD will retain its spacious cab, which is a half inch shy of seven feet wide, a full five feet from floor to ceiling and offers 2,000 sq. in. of windshield space," explains Hanson.
The VHD now offers a more modern interior with ergonomic dash and Volvo's Position Perfect steering wheel. "The Position Perfect steering wheel offers multiple angles to optimize driver comfort," says Hanson. Not only can drivers tilt and telescope the steering wheel, they can tilt the wheel relative to the steering column. "The dash switches are flexible to be adjusted per application.
Power and Driveline Configurations
The VHD now offers more axle configurations. "Previously, VHDs were only available with one lift axle installed at the factory," says Hanson. "Now up to two lift axles will be installed online, either in the pusher or in the tag position. If more than two lift axles are required, controls, plumbing and frame hole punching can be supplied at the factory for quicker install at the body companies."
He adds, "As for drive axles and suspension, the VHD will continue to be offered in a single, tandem and tri-drive configuration with spring, walking beam, air ride and T-Ride suspensions. T-Ride suspension provides the articulation you need off road. There have been two enhancements to the Volvo T-Ride option — a firm ride option and a new two shock configuration. The firm ride option is available in the 44 K and 46 K capacities "A firm ride should be used in application with a high center of gravity (CG) or where roll stiffness is required," says Hanson. This include mixers and trucks with wing plows. The firm ride T-Ride will be 200 lbs. less than a comparable performing walking beam suspension."
The T-Ride will also now be offered in a two-shock configuration. "Previously, it was a four-shock configuration," notes Hanson. "The two shocks will be placed on the forward drive axle to allow for short overhang dimension applications, such as a roll off."
Volvo continues to offer its integrated powertrains based on a D11 or D13 engine combined with the I-Shift automated transmission. The I-Shift transmission is available with crawler gears. It adds one or two gears to the 12-speed transmission, enabling the VHD to start on steep grades, provide low-speed control and reach maximum highway speeds with faster rear axle ratios. I-Shift with crawler gears provides up to 1,850 lb.-ft., allowing you to reach maximum highway speeds at low engine speeds.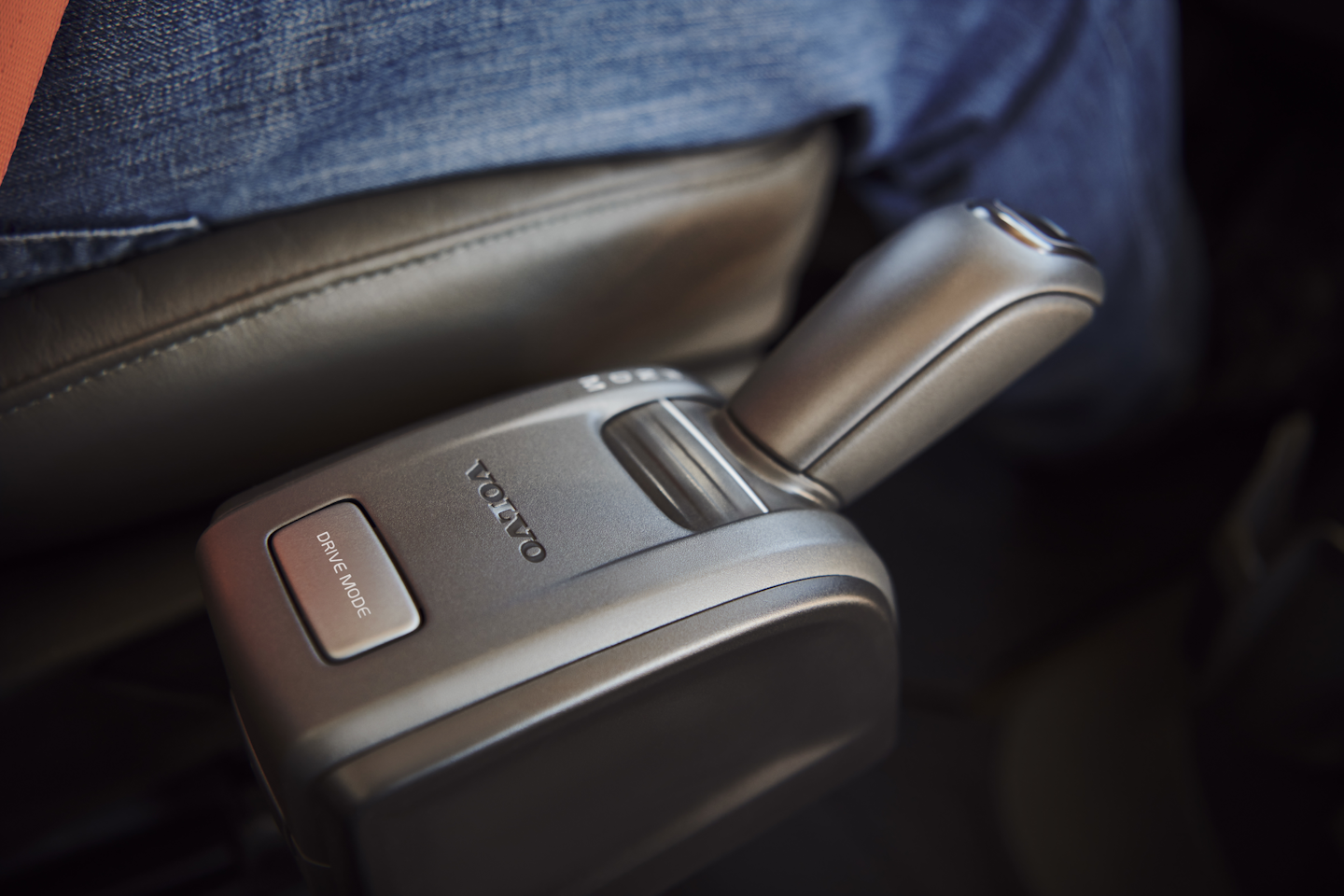 The I-Shift transmission is available with crawler gears. It adds one or two gears to the 12-speed transmission, enabling the VHD to start on steep grades, provide low-speed control and reach maximum highway speeds with faster rear axle ratios.Volvo Trucks North America
Credit: Source link